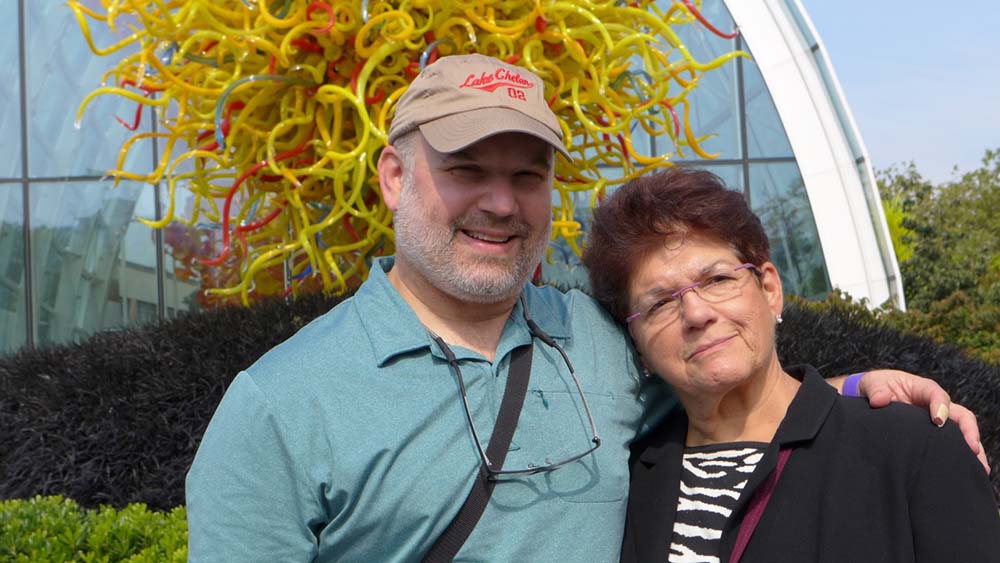 The afternoon of May 20, 2017, about 1 p.m., I received a phone call from a man who asked for me, and told me his name was Adam Michael Calabrese, he lived in Seattle, Wash., and he had something personal and confidential to talk with me about. "Is this a good time?" he asked.
I felt a little nervous, but I said yes.
He told me about his birth certificate and that he believed I was his birthmother.
"Yes," I told him. "That would be me."
I couldn't believe the rush of emotions — fear, happiness, tears, excitement, wonder, relief, and probably more — that I felt on that call.
Before the phone rang that day a year ago, I had feared Adam might reject me for giving him up and not having the courage to keep him. I had felt sadness, mentally called him 'The One I Let Go', worried that he might get parents that didn't love him, that he wasn't okay. On that call he told me that he was happy I carried him to term and that he had great parents, a good life and wonderful friends. I thought back to conversations with the social worker and I knew I made the right decision for me and him at the time, even though over the years there were pangs of regret.
Adam told me about his journey — when and how he found me. After receiving his birth certificate, he searched for my maiden name. It wasn't until he found my sister's death notice that he discovered my current name. I was pretty easy to find after that — a listing in the phone book and the magic of Facebook. I called Mary, my wife, to the phone, and he got his wife Rachel on the phone, and the four of us talked for well over an hour. Adam said he had looked on Facebook for two months before he called. Rachel said they wanted to make sure I would be someone they would want to contact. Guess I was.
We ended that call with promises of further conversations. He mostly called me on Sundays because of work and time constraints — Seattle is three hours behind us here in Ohio. And Adam continues to call. We talked about everyday happenings, families, feelings. My fears of him finding me quickly evaporated. The more we spoke the more I liked him. It sounded like everything I had hoped for him had materialized.
Those frequent conversations worked their way into meeting. Mary and I had planned on driving cross-country within the year to visit friends and family in Washington and Oregon. But Mary said we wouldn't wait that long. I found round-trip flights for a long September weekend and accepted a gracious invitation to stay with my niece and her husband, who had just built a new home only 25 minutes away from Adam's home. Could this be any more perfect?
I shared contact info between Adam and my niece, and together they planned a perfect weekend. Mary and I felt so taken care of. We all met for the first time on Sept. 15 at a wonderful restaurant. Conversation flowed. It felt as though we'd done this hundreds of times before!
That weekend felt like a Hallmark movie. Mary and I have since traveled to Seattle again to celebrate Adam's birthday for another great weekend, and he and Rachel plan to visit us in Ohio in July. We both hope to build on our relationship. I wish it could be more frequent, but it will be challenging because of the distance. There's so much more to talk about. He is just the nicest guy and I feel so proud that he is who he is. His family is wonderful. Rachel's mom is delightful, her husband charming, Adam's youngest daughter is sweet and fun.
I look forward to meeting his older daughter, who had just left for her first year in college when I visited. I have a wonderful family and it has just grown. Tears of happiness well up in my eyes when I think of all that has come about from that May 20 phone call.
Finally, after decades of wondering, I am at peace.
This story was shared with the author's permission. Charlotte Wells is a birthmother from Ohio.