Overview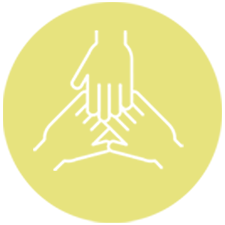 Adoption Network Cleveland: The Ohio Family Connection is committed to supporting youth currently in foster care and those who have aged out of the foster care system. Currently, there are approximately 2,000 children and youth in foster care in Cuyahoga County, with 500+ in the permanent custody of the county and awaiting a permanent family.
The Foster Youth & Alumni Hub supports youth/teens in permanent custody (those whose parents' parental rights have been terminated) by providing them with life skills and preparing them for adoption and/or adulthood. It also works with youth who have aged out of foster care to provide support around safely and effectively reconnecting with birth family members if desired. Finally, it provides mediation services for cases with multiple placement options in order to preserve familial connections for the youth.
Adoption Network Cleveland provides resources, from our organization and the community, that can be helpful for youth in foster care and alumni as well as offering guidance, support, and specific services. These services include:
Helpline – phone or email support, available Monday-Friday 8:30am-5:00pm.
General Discussion Meetings – Meetings for adults to get support, discuss and learn about adoption and foster care issues and hear various perspectives. Meetings are held monthly, and are in seven locations throughout Ohio as well as via webcam.
Get Real – Get Real is an educational and supportive group for teens in foster care that provides a safe place to share experiences and explore feelings about foster care and adoption.
Cooking with Cuyahoga's Kids – Cooking with Cuyahoga's Kids, in partnership with the Junior League of Cleveland, educates teens in permanent custody about making healthy eating choices and provides cooking instruction to enable those choices.
Reconnections – Monthly peer group and/or one-on-one support for young adults who have aged out of foster care and are exploring relationships with birth family members.
Mediation – Select staff members are trained in Child Permanency Mediation to handle referral cases where children are removed from their home, it has been determined that the child cannot safely return to their original home, and there multiple competing permanency placement options for the child.
For additional questions about how we can support you, please contact Donikea Austin, Program Coordinator – Youth Services, at (216) 482-2334 or donikea.austin@adoptionnetwork.org.
Foster Youth & Alumni Calendar