Abby Del Rio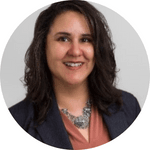 Abby Del Rio, Director of Finance & Operations
Phone: (216) 482-2310
Email: abby.delrio@adoptionnetwork.org
Abby joined the team as the Director of Finance & Operations in October, 2021.  She supports the Executive Director in the overall administration and operation of the organization's activities and directs the financial affairs of the organization.
Abby holds a B.A. in Accounting from Cleveland State University.  After earning her degree, Abby spent 12 years as the Financial Officer at Cleveland's Hispanic Urban Minority Alcoholism & Drug Abuse Outreach Program, Inc. (HUMADAOP). During her tenure there, she managed a multimillion-dollar budget built on funding from the Ohio Department of Alcohol & Drug Addiction Services, the Alcohol & Drug Addiction Services Board of Cuyahoga County, the Substance Abuse and Mental Health Services Administration, The Cleveland Foundation and various other governmental and foundation grants. She also fulfilled HR functions.  
She spent the last four years supporting the Arts and Culture sector in Cleveland, most recently as Business Manager of Assembly for the Arts.  An organization created to bring the sector together through advocacy, activism, racial equity, and creative resources for the arts.