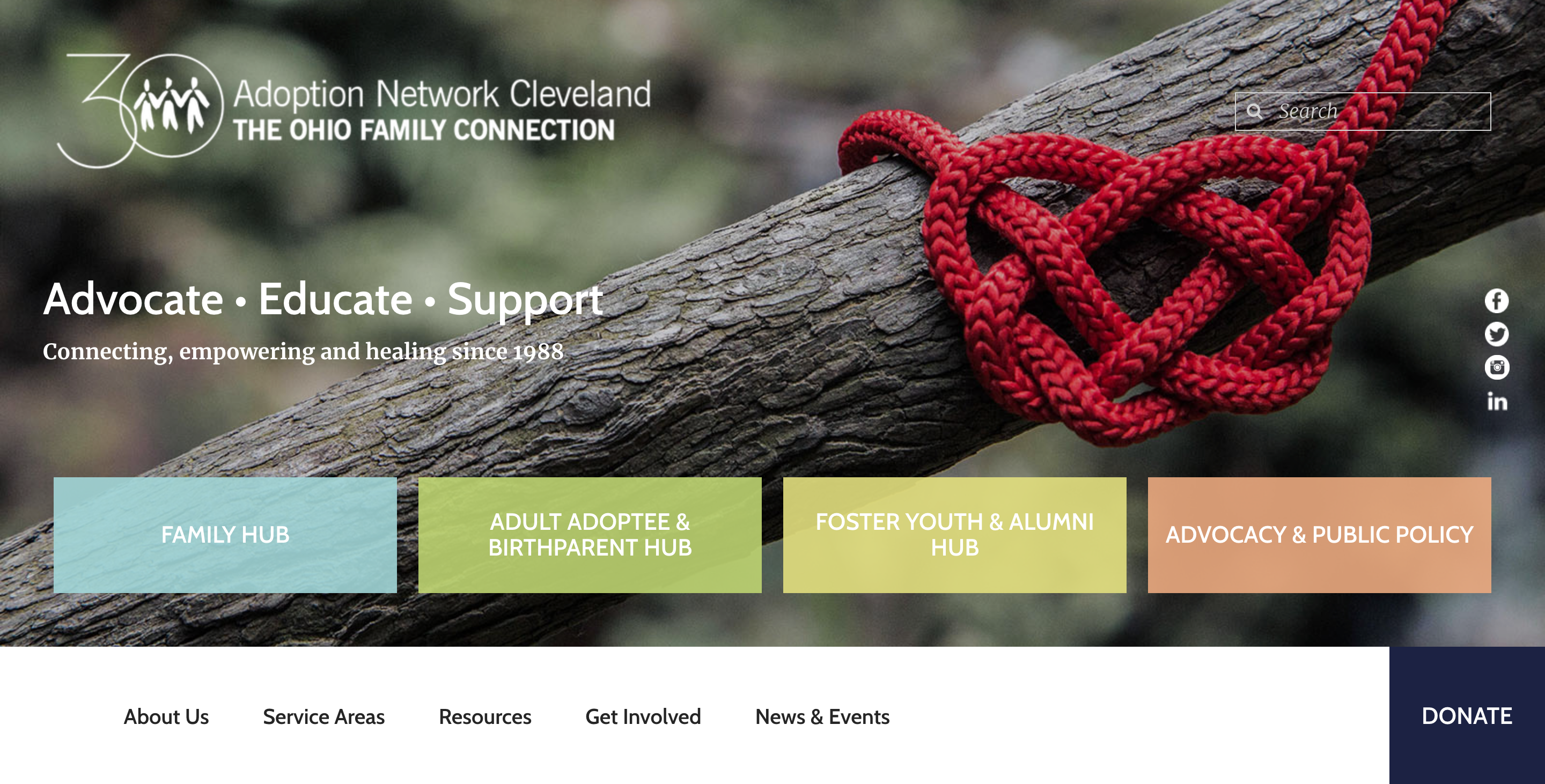 Visitors to the Adoption Network Cleveland website will notice a brand-new look and layout. They'll also notice a new tagline, Adoption Network Cleveland: The Ohio Family Connection, signifying the extension of the organization's services reaching beyond Northeast Ohio, and beyond adoption, to mark its 30th anniversary in 2018.
Executive Director Betsie Norris explained that adding "Ohio" and "Family" to the organization's name "helps us be more expansive and accurate," she said.
"Adoption is one outcome in child welfare and it is still an important one for children in need," said Norris. "The conversation has broadened, however, and children and youth who can't remain safely at home are now often cared for by extended family or community members. We find ourselves serving these families, often termed kinship families, in our mix as they have more in common than not with the populations we serve, and we seek to be inclusive in our outreach. For this reason, we add 'Family' to balance out 'Adoption'."
While the organization's roots are in Northeast Ohio since Norris founded it in 1988, Adoption Network Cleveland increasingly serves people throughout Ohio and beyond. The organization has started General Discussion Meetings - monthly public meetings to discuss and learn about adoption and foster care issues and hear various perspectives - in other Ohio cities.
Adoption Network Cleveland recently organized its services under four distinct service hubs:
• Family
• Adult Adoptee and Birthparent
• Foster Youth and Alumni
• Professional and Stakeholder
The organization overlays its core services involving advocacy, education and support across each of those hubs.
This is the fifth iteration of Adoption Network Cleveland's website. The organization first launched its site in 1999, and made updates to the design in 2005, 2007 and most recently in 2011.
The new site, which went live on Monday, April 16, features a mobile-friendly modern layout that highlights images and a clean design that simplifies navigation for website visitors. Adoption Network Cleveland staff worked closely with Firespring, an online marketing company in Nebraska. With tools from social media and email integration to donation processing, Firespring has worked with nonprofit organizations for 20 years.