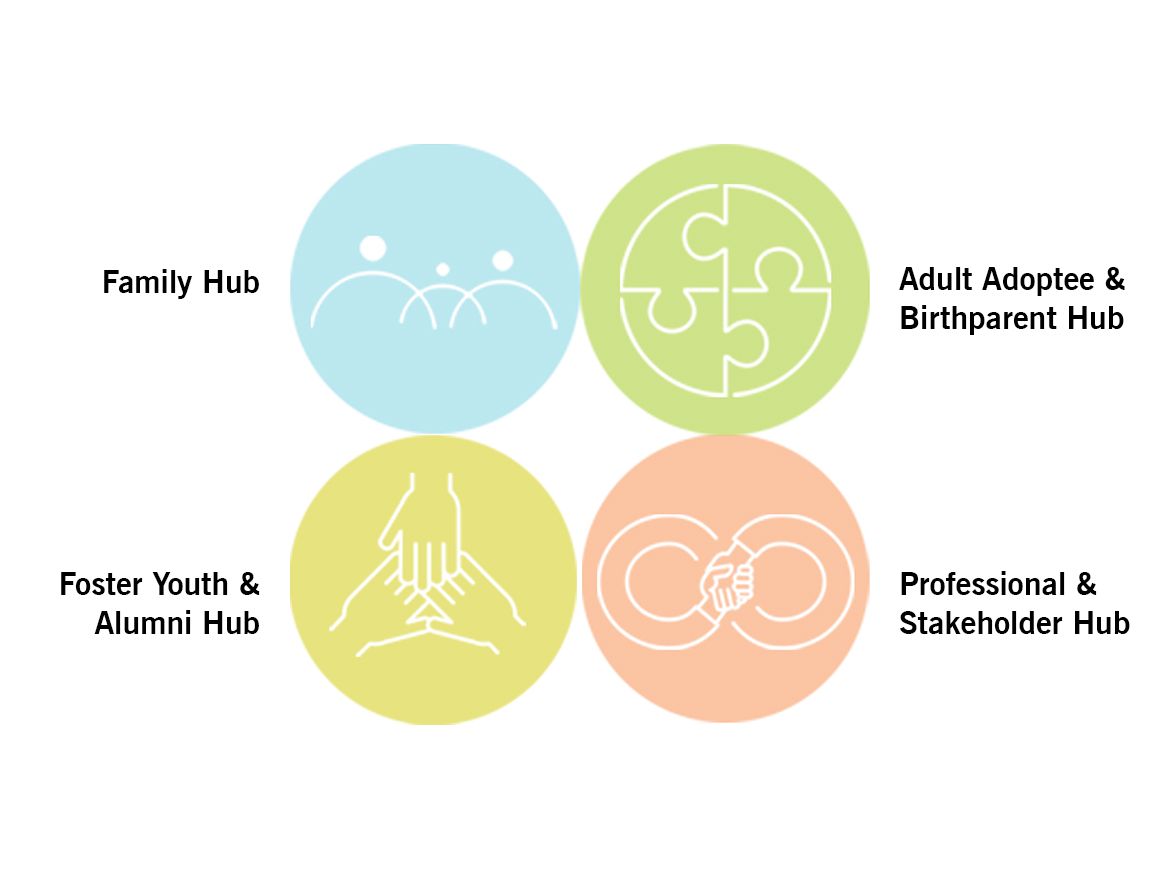 When Adoption Network Cleveland: The Ohio Family Connection launched a new website in April, it unveiled a new model that grouped its programs into four hubs based on the children and families the organization serves.
The organization also added a new tagline, "The Ohio Family Connection," to its name in an effort to be more expansive and accurate about its services.
What do these changes mean for Adoption Network Cleveland's members and community? Executive Director Betsie Norris explained that the new model and tagline, co-developed by the organization's board of directors, staff and key stakeholders, is "meant to both organize our services and reflect the growing scope of people we serve, in addition to adoptive families to include foster and kinship families (children in the care of extended families). Our hope is that more of these foster and kinship see us as a resource to help support and empower them. We find ourselves serving these families, often termed kinship families, in our mix as they have more in common than not with the populations we serve, and we seek to be inclusive in our outreach."
The four distinct service hubs:

• Family

• Adult Adoptee and Birthparent

• Foster Youth and Alumni

• Professional and Stakeholder

The organization's core services, which include advocacy, education and support, are integrated into each program hub.
Among the services within the Family Hub are telephone and in-person support, as well as monthly group support gatherings and workshops for families; comprehensive support regarding transracial families; educational guidance; mentorship programs and permanency navigation for prospective adoptive families, including two informational workshops—Adoption 101 and 201.
The Adult Adoptee and Birthparent Hub provides information, support, education and advocacy for adult adoptees, birthparents, siblings and extended family. The services include monthly discussion meetings in seven locations throughout Ohio, search and reunion assistance, and group peer support for birthmothers. The goal of these activities is to help those served find a community that provides assistance and healing.
The Foster Youth & Alumni Hub supports youth and teens in permanent custody (those whose parents' parental rights have been terminated) by providing them with life skills and helping prepare them for adoption and/or adulthood. It also works with youth who have aged out of foster care to provide support around safely and effectively reconnecting with birth family members if desired. Finally, it provides mediation services for cases with multiple placement options in order to preserve familial connections for the youth.
The Professional & Stakeholder Hub creates a community for professional training, development and collaboration for all of those who work with and for the adoption and foster care population.
Adding "The Ohio Family Connection" reflects the growing scope of impact and service of Adoption Network Cleveland throughout the state, as well as the broader scope of families beyond traditional adoption.
"We wanted to take an opportunity in 2018, the year we celebrate our 30th anniversary, to evaluate how we brand ourselves and our services," Norris said. "The four-hub model more clearly identifies groups that can benefit from our services."
For more information on the services available in each program hub, please visit our website