For adoptive, kinship and foster families
Adoption Network Cleveland's Family Ties Parent and Youth Group provides adoptive, kinship and foster families with children ages 2-18 the opportunity to meet, share their experiences, and learn from each other and featured presenters.
The Parent Group (Parent Cafés), Youth Group (ages 11-18), and children's activities (ages 2-10) all run concurrently. A potluck meal is served, and participating families are asked to bring a side dish to share. Childcare is provided free of charge.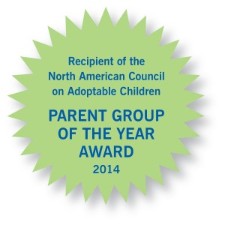 When: Second Thursday of each month, 6-8 p.m.
Where: Adoption Network Cleveland, 4614 Prospect Ave., Suite 550, Cleveland, 44103
About Parent Cafés
Parent Cafés are structured, small-group conversations that bring parents together to discuss issues that are important to them. These are essential tools used to engage parents directly in building protective factors and enhancing resiliency for families. In our commitment to provide support to families, we also recognize that men in our families need support, too! Fathers and men in other support roles — such as uncles, grandfathers, significant others, and mentors — are invited to join us.
In addition to monthly meetings, regular social activities are also planned to help families connect with one another. For dates and times, visit our calendar.
For more information
Contact Donika Austin, Program Manager, at donikea.austin@adoptionnetwork.org or (216) 482-2334, or Danielle Gibson, Program Coordinator at danielle.gibson@adoptionnetwork.org or (216) 482-2332.
Download a copy of our flyer with program dates and topics.
2020 Meetings and Topics