Volunteer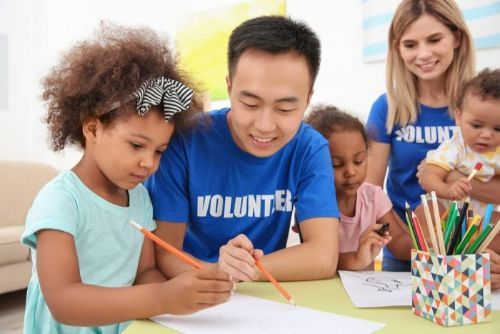 "Life's most persistent and urgent question is 'What are you doing for others?'" – Martin Luther King, Jr.
Whatever your availability, skill set, or personal interests, Adoption Network Cleveland has a need that you could fill by becoming an Adoption Network Cleveland volunteer. Since our founding in 1988, volunteers have played a critical role in program development, advocacy, leadership, fundraising, organizational oversight, and direct service.
Some positions require a great deal of commitment, while others ask for a little more than a few hours of your time. What qualifies you to become an Adoption Network Cleveland Volunteer is a willingness to serve and support those individuals and communities whose lives have been touched by adoption and foster care.
Opportunities
Be the first smiling face guests see when they arrive at Adoption Network! Opportunities for 1 to 5 days per week.

Receptionist

*Please note, this volunteer opportunity is not currently active during the COVID pandemic but will be needed once staff members return to the office.

The Volunteer Receptionist performs a variety of clerical tasks in support of the day-to-day operations of the organization.

Responsibilities can include:

Greets and welcomes guests and program participants upon arrival at the office. Prepares meeting rooms for guests.
Answers, screens, and forwards incoming phone calls to the appropriate person.
Provides basic and accurate information in-person and via phone and email.
Provides general office support including writing and mailing correspondence, copying, scanning, filing, faxing and transcribing.
Manages departmental files and records. Updates databases.
Inputs program evaluation survey data into Survey Monkey for compilation.
Assists with facility rentals including contacting vendors for pricing information.
Updates calendars and schedules meetings.
Maintains and updates community calendars providing accurate program information.
Ensures reception area, meeting rooms, mailroom, and kitchen are tidy and presentable.
Orients and trains new staff on proper protocols for answering the phones.
Is friendly, helpful, and professional with staff, volunteers, members, professionals, callers, and visitors.
Assists with other administrative tasks as needed.

Baking Volunteer

Bake at home and share with others by bringing in bakery products for programs, events and volunteer days.

Serve on one of our Committees to the Board of Directors and provide your insight on finance, fundraising, leadership, public policy, programming and outreach.

Event Volunteer

Help us at our fundraising and organizational events with registration, set up and breakdown, selling raffle tickets, crafts, children's games and more.

Program Volunteer

Work on programs that respond to the needs of our members and the Cleveland community.

Search Volunteer

Assisting other members in their searches for their birthparent(s) or adult child. Works closely with our Search Specialist.

Special Project/Office Volunteer

Assist with special projects and work in our offices, or behind the scenes, to help make it all happen.

Historical Archivist

Detail-oriented individual needed to organize Adoption Network's archives, including advocacy materials, past event materials, and historical documents.