Birth Parent Support
Birth Mother Support Group
Our Birth Mother Support Group provides a safe and supportive environment to help with the complexities that are often part of the adoption experience. The meetings are open to birth mothers connected by the lifelong journey of adoption and are an opportunity for birth mothers to encourage one another in their healing process through discussion and interaction. Birth mothers who have experienced closed adoptions or adoptions with varying degrees of openness attend this meeting. We invite you to join this group of women, who are at different places on the same journey, to give and receive understanding and support. 
What is the scope of this group?
This peer discussion and support group is not meant to replace conventional therapy, but rather serve as additional support on your personal journey to integrate your experience. The focus of this group is the emotional aspects of our journeys. For those involved in the process of search, one on one guidance and support as well as technical expertise and assistance are available through our Search & DNA Assistance program.
Meeting Information
This meeting is a virtual meeting led by trained, volunteer facilitators Lindsey and Nikki, held the first Wednesday of every month from 7-9 pm ET. The meeting is held via the Zoom platform (which can be accessed through a home computer/laptop, tablet, or mobile phone) and will require an internet connection or phone data connection. Pre-registration is required and can be completed by finding the link for the meeting on our calendar and following the prompts for registration. 
The meetings are free and open to birthmothers. Membership in Adoption Network Cleveland helps provide the support that makes Birthmother Support Meetings possible, and we ask all who attend to consider joining as a member. 
How do attendees describe their experience at this group?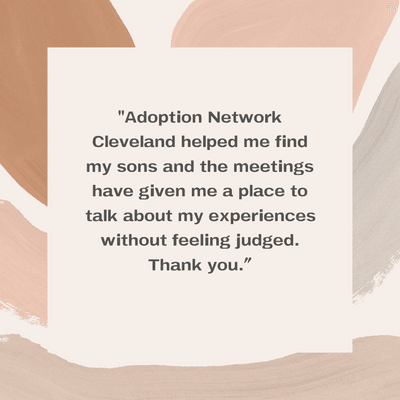 Click HERE to see testimonials from attendees of the Birth Mother Support Group.

"I love talking to others who were also silent for so many years. I only wish something like this would have been available 52 years instead of having so much shame."

"These meetings have given me a free and open space to speak my feelings on being a birthmother." 

"It has brought understanding of feelings that were not clearly identified for me. And normalized the silence I have held for too long. No more."

"Healing and self-confidence grew due to my involvement." 

"Helps me share and understand."

"I have enjoyed staying in contact with other birth moms since my daughter found me 27 years ago. It helps to make up to all of those 25 years of keeping silent." 

"It has allowed me to speak my truth in a controlled environment which empowers me to speak in other environments."

"It has helped me heal through the years being comfortable at a place where I could share what was on my mind and heart. So grateful Adoption Network was there for me." 

"Adoption network has helped me find my sons and the meetings have given me a place to talk about my experiences without feeling judged. Thank you."
Birth Parents Support
Birth parents are also highly encouraged to attend monthly General Discussion Meetings where you will have an opportunity to share your journey and gain the perspective of others in the adoption constellation. Please join us for these powerful peer support opportunities.
Birth parents who are interested in searching for their adult child are encouraged to find out more about our Search & DNA Assistance program.
For more information, contact:
Ty Cliffel, LPC, Director of Programs
Phone: 216-482-2320
Email: ty.cliffel@adoptionnetwork.org