DNA Discovery Support Group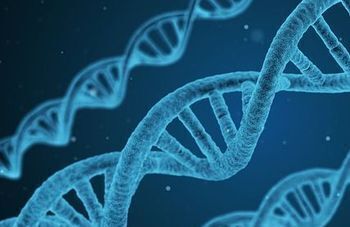 If you have either found family using commercial DNA testing or been found by family who used commercial DNA testing (examples of commercial DNA testing are Ancestry.com, Family Tree DNA, 23&Me, My Heritage, etc.) then this is the group for you. You do not need to have a formal adoption connection to be in this group, but you do need to have a DNA discovery for this group to be relevant to you. Examples include individuals with a known connection to adoption such as birth/first parents, grandparents, and siblings, adoptees, and donor-conceived individuals; also, individuals with unexpected parentage results among those not adopted such as unknown child discovery, unexpected niece, nephew, or cousin discovery, individuals discovering they are donor-conceived or adopted (late discovery adoptees); anyone who has who found unknown siblings. international adoptees connecting to family including cousins, unexpected grandparent discoveries, and the many other scenarios that are surprising folks with today's widespread commercial DNA testing.
Why is this group needed?
Finding family, or being found - whether you are looking or not - is a major life event. It can upend long-held beliefs about ourselves and challenge the very things that make us feel like, well..., ourselves. Things like biological parentage, ethnicity, religion, and birth order, just to name a few. There is also a myriad of reactions from those who have either unexpectedly found us or to the news that we have found them. Sometimes those reactions are not what we had hoped for, or what we anticipated. It can all be very overwhelming. This group will focus on supporting each other during and after such DNA discoveries. These are not one-time events; they are lifelong journeys.
What is the scope of this group?
This peer support group is not meant to replace conventional therapy or to delve into the technical aspects of understanding your DNA results, but rather to serve as additional support on your personal journey to integrate your DNA findings into your life. Through listening and sharing with your peers, the hope is you will get the support you need to face the challenges that your DNA discoveries have presented. The focus of this group is on the emotional journey, and not the technical aspects of DNA results or the interpretation of results.
Meeting Information
This virtual meeting is led by trained, volunteer facilitators Becky and Oliver, and is held the first Tuesday of every month from 8-10 pm ET. The meeting is held via the Zoom platform (which can be accessed through a home computer/laptop, tablet, or mobile phone) and will require an internet connection or phone data connection. Pre-registration is required and can be completed by finding the link for the meeting on our calendar and following the prompts for registration. 
The meetings are free and open to anyone touched by a DNA Discovery. Membership in Adoption Network Cleveland helps provide the support that makes DNA Discovery Support Meetings possible, and we ask all who attend to consider joining as a member. 
How do attendees describe their experience in this group?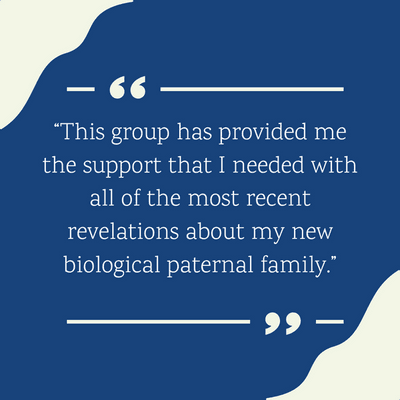 Click HERE to see testimonials from attendees of the DNA Discovery Support Group.

"It has encouraged me to continue my pursuit finding my biological father. Also, if that doesn't happen, the support of the group has helped me with acceptance."

"First, Traci Onders (Adoption Network Cleveland Program Manager) helped my maternal family find me. Second, Traci helped me figure out (with the help of DNA) who my birth father was. Third, ANC helped me deal with the aftermath of one and two. The support groups have been beyond supportive with helping me deal with this journey that has taken me 58 years to acknowledge and truly process." 

"I have finally found my authentic voice." 

"Knowing that I'm not alone in this journey is very comforting, and hearing about the steps that others has taken helps me see a path forward." 

"My life has been very lonely with adoption issues/education this is the family I needed and need." 

"It has helped me understand others' perspectives in the adoption triad and their experiences. It also gave me the confidence to pursue my search for my birth family."

"I'm beyond grateful for ANC. Thank you for all the work that has gone into creating such an amazing resource for anyone who is a part of the adoption constellation."

"This group has provided me the support that I needed with all of the most recent revelations about my new biological paternal family."

"This group has provided valuable insight and encouraging comment as I navigate a difficult period of my life."
DNA Search Assistance
Our Search & DNA Assistance program can help you develop a testing plan, understand your test results, and use those test results to make meaningful discoveries. Our approach provides experienced guidance on reaching out to DNA relative matches.
We have assisted in many adoption searches using DNA, as well as a variety of other searches, including those with misattributed parentage. Commonly referred to as MPE, this can occur when someone learns that a parent is not a biological parent and can include late discovery adoptees, donor-conceived individuals, or someone who has a different biological father than the person on their birth certificate.
To learn more about using DNA to search for birth family, read these two blogs: DNA is a Game Changer and Important Things to Remember When Your Results Arrive.
For more information, contact:
Ty Cliffel, LPC, Director of Programs
Phone: 216-482-2320
Email: ty.cliffel@adoptionnetwork.org