Weaving Cultures Transracial Family Group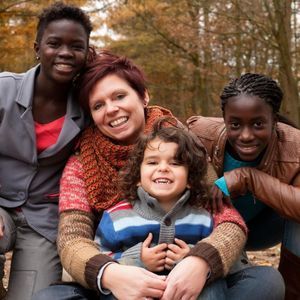 The Weaving Cultures Transracial Family Group is for families who have been formed through transracial adoption. Its purpose is to offer a setting where both children and adults can form relationships and spend time with other families who share similar experiences through social and educational opportunities.
The group generally meets on the second Sunday of every month (except August and December*) in family-friendly locations around town or private homes, attempting to alternate between the west and east side.
**The parent group is currently meeting virtually due to the ongoing pandemic. Check our calendar for current meeting dates, topics and to register to receive a link to the meeting.**
In addition to our monthly gatherings, parent-to-parent peer support is available. Contact Krysia Orlowski, volunteer parent coordinator, to be connected with a parent who can help. Parents can also connect with other parents in our Weaving Cultures Transracial Adoptive Family Group through our private group on Facebook.
For more information, to be added to the email list, and to RSVP (no later than Friday before):
Krysia Orlowski, Volunteer Parent Coordinator
krysia_orlowski@hotmail.com OR
Donikea Austin, Program Manager
donikea.austin@adoptionnetwork.org
216) 482-2334
*Adoption Network Cleveland hosts two free events each year for our members and for those we serve: the Annual Summer Cookout (August) and the Annual Holiday Party (December).