Weaving Cultures Transracial Family Group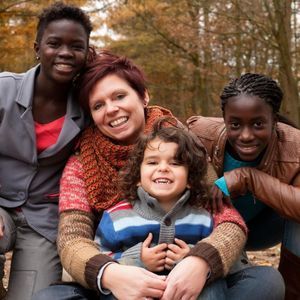 The Weaving Cultures Transracial Family Group is for families who have been formed through transracial adoption. Its purpose is to offer a setting where both children and adults can form relationships and spend time with other families who share similar experiences through social and educational opportunities.
Family Programs for Summer 2021
As safety guidelines begin to become less restrictive, we are transitioning to a combination of in-person and virtual events and workshops! 
Monthly In-Person Family Social Activities
Monthly Parent Group Virtual Discussions

Find out what events are scheduled and register through our calendar, and join us for all or any of our activities planned for adoptive, kinship, and foster families.
We are SO excited to see you!
In addition to our monthly gatherings and workshops, parent-to-parent peer support specifically for transracial adoptive parents is available. Contact our Director of Programs, Ty Cliffel, to be connected with a parent who can help.
Parents can also connect with other transracial adoptive parents in our Weaving Cultures Transracial Adoptive Family Group through our private group on Facebook.
For more information and to be added to the email list:
Ty Cliffel, LPC, Director of Programs
Phone: 216-482-2320
Email: ty.cliffel@adoptionnetwork.org
Brian Lutz, Program Coordinator, Family & Youth
Phone: (216) 482-2332
Email: brian.lutz@adoptionnetwork.org