Search & DNA Assistance
Searching for one's birth family is a personal and important life event that is unique to each individual. Adoption Network Cleveland: The Ohio Family Connection is an experienced, trusted, reliable search resource for adult adoptees, birth parents and siblings, those with DNA discoveries (including misattributed parentage and individuals who are donor conceived), and others who are interested in searching for their relative(s). The wrap-around support provided by our knowledgeable staff, and the breadth of resources available, round out our unique and holistic approach.
"Armed with the information and direction provided, I felt inspired and motivated, and appreciate the encouragement and support along the way." - an adoptee
Who Does Adoption Network Assist with Searches?

Adult adoptees 
Birth parents of adoptees 18 years old and over  
Siblings or extended relatives 
Adoptive parents on behalf of their minor child 
Lineal descendants of adoptees 
Adults who are donor conceived
Individuals who have experienced a DNA discovery or Misattributed Parentage (MPE): also referred to as Non-Parental Event (NPE), this term represents when someone learns that a parent is not a biological parent and can include late discovery adoptees, donor-conceived individuals, or someone who has a different biological father than the person on their birth certificate.

Benefits of Searching with Adoption Network

Adoption Network Cleveland has successfully helped thousands of adult adoptees, birth parents, siblings, and extended families find one another. Our assistance includes providing information on public records, search techniques, guidance, and emotional support throughout your search and beyond. 

More than 30 years of experience with searches
A holistic, inclusive approach that is respectful of all parties involved
Leader in all legislative changes regarding adoption law in Ohio for more than 30 years, including spearheading legislation for Ohio adult adoptees to access to their original birth certificates
Professional approach with well-trained staff held to high standards of accountability
Trained in the use of DNA Genetic genealogy
Experienced, personalized coaching
While our expertise is focused on Ohio, our knowledgeable staff has assisted in searches beyond our state borders. Contact Karen Wyman to discuss a confidential, personalized consultation at no cost.
Important Considerations
When embarking on a search, it's important to consider some of the following for self-preparation: 
Prepare for all possibilities. This means everything from best case to worst case, including acknowledging that not everyone wants to be found, others will be thrilled, and everything in between.
Maintain realistic expectations—for yourself, for your immediate family, and for whomever you may find, as well as for the completed search and post-reunion period.
Discretion and confidentiality are important.  Adoption usually carries some hard details and is not something that happens when all conditions are ideal. A birth parent who has relinquished may not have told their immediate or extended family. If possible, initial contact with the person that you are searching for should be with that person directly and not a spouse, child, sibling, parent, or extended family member.
Meet people where they are and do not make assumptions. Let people tell their own stories.
Know your own boundaries and respect the boundaries and wishes of others.
Have a support system in place. This may include helping your family and friends understand what you are going through, searching out support/discussion groups, reading books, or having an adoption competent therapist.
Have patience and be resilient. Searching can be time-consuming and emotionally draining.
Steps for a Successful Search
Start a file or notebook for your search. Record names and dates of everyone you speak with and keep all emails, letters, documents, etc.
Obtain all documents to which you are entitled. This can vary by state, research what you are entitled to in the state you were born, and in the state which handled your adoption. In some states, such as Ohio, adoptees can request their original birth certificate. Ohio Adoption Forms can be found below.
Contact the Probate Court that handled your adoption and request the name of the agency that handled your adoption and any non-identifying information the court can provide. If you know the agency that handled your adoption, contact the agency and request non-identifying information, as provided by the 

Ohio Release of Non-identifying Information

.
Searching for birth family or an adoptee is not only a technical process but an emotional journey as well.
Assess and develop your support system. Connect to Adoption Network Cleveland's support system—attend General Discussion Meetings, join our online Virtual General Discussion Meeting or let us assist you in finding a local adoption support group or an adoption competent therapist in your state/area.

Acknowledge it can be emotional for the person on the other end of the search, the person being found. Making efforts to understand the perspectives of all triad members can be extremely beneficial when reaching out, allowing one to prepare for possible responses. Adoption reunion is often referred to as an emotional roller coaster with good reason. Having knowledge of the core issues can help normalize that experience.

Read recommended books about adoption, search, and reunion. Some are listed below and more can be found on our Recommended Resource list.
The Adoption Reunion Survival Guide, by Julie Jarrell Bailey and Lynn Giddens
Birthright: The Guide to Search and Reunion, by Jean Strauss
The Girls Who Went Away, by Anne Fessler
Lost and Found, by Betty Jean Lifton
Primal Wound, by Nancy Newton Verrier
Seven Core Issues in Adoption and Permanency by Sharon Kaplan Roszia & Allison Davis Maxon
Read our Search FAQs which addresses more detailed questions about search. Individual questions can be addressed by contacting Karen Wyman.
Forms for Adoption Searches
Forms and detailed information for searches in Ohio are available on the Ohio Department of Health website.
Release of Adopted Name (Adoptee)

(Lineal descendants of adoptee)
DNA
DNA tests are powerful adoption search tools for adoptees looking for birth families. For birth family looking for an adoptee, taking DNA tests can be an important way to enable an adoptee to find their birth family.   
Our Search & DNA Assistance program can help you develop a testing plan, understand your test results, and understand how to use your results to find your birth parents. Our approach provides experienced guidance on reaching out to DNA relative matches.
We have assisted in many adoption searches using DNA, as well as a variety of other searches, including those with misattributed parentage. Commonly referred to as MPE, this can occur when someone learns that a parent is not a biological parent and can include late discovery adoptees, donor-conceived individuals, or someone who has a different biological father than the person on their birth certificate.
To learn more about using DNA to search for birth family, read these two blogs, DNA is a Game Changer and Important Things to Remember When Your Results Arrive. 
Making Contact
If your search is complete and you are planning to make contact with birth relatives, read our Making Contact Guide. This guide combines our decades of experiences with search and reunion and may give you some insight into how to approach the contact.
Resources
Additional resources can be found through our Resources for Adult Adoptees and Birth Parents.
Testimonials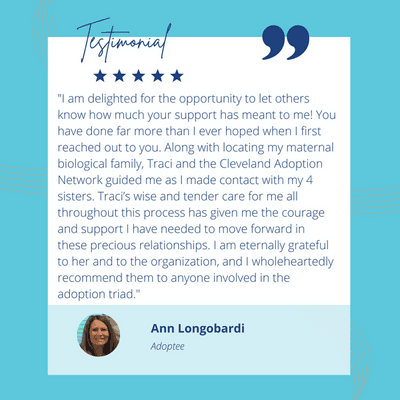 Click HERE to see what others have to say about Adoption Network Cleveland's expertise, compassion, and methods supporting those interested in searching for birth family.

"I always wondered if I could find her. Some family said that I had a sister, but the majority said, "No, don't pursue it. I couldn't have done this without you. I always felt like something in my life was missing. In a way, something is still missing, as she passed away before I found her, but now I have a nephew and he is the missing link. I feel so close to him. Thank you, Adoption Network Cleveland, for all you have done."

 

"The assistance offered made all the difference in my search. So far, I've been introduced to three half-sisters that I never knew existed. I learned the name of my birth father even though I thought my mother took that information with her when she died. I had started and stopped this search so many times over the last two decades. I know I would have just given up again if Traci (team member) hadn't answered an email I almost never sent."

 

"I didn't even know where to start. If it wasn't for the Adoption Network, I wouldn't have known what to do. It has changed my life."

 

"I always wanted to know his name. No one ever understood. Not my family or my friends. I am no longer haunted by the information I needed for peace. In fact, this might not sound nice, but I've thought so much less about my birth father since learning his name. That omission no longer has power over my life or my happiness. Thank you, Adoption Network Cleveland."

 

"I've "attended" three online discussion groups and I find it so empowering to listen and talk with other adoptees and what they've encountered on their journeys. Whether their journeys have been positive or negative or both, it's SO helpful to know that others are feeling the same way as I am. I've also learned that this journey is really never OVER, even after you've been found or have found family. There is SO much to process and the education that I'm getting through ANC resources and these groups have made a difference. Knowledge is power."

 

"Your organization and the work that it does is literally life-changing."

 

"ANC has supported me in my adoption and birth mother journey on so many levels. I feel a sense of freedom within myself that I have not felt. I also have closer on some emotional levels that I have carried for so many years."

 

"Being guided and supported through a very dramatic and time-critical search that happened quite suddenly was an empowering and transformative experience. I'm eternally grateful to Traci and Betsie." 

 

"ANC has helped me better understand the importance of making educated decisions when it comes to adoption-related issues. I am better prepared, which has made me more confident. Thanks."

 

"I am delighted for the opportunity to let others know how much your support has meant to me! You have done far more than I ever hoped when I first reached out to you. Along with locating my maternal biological family, Traci and the Cleveland Adoption Network guided me as I made contact with my 4 sisters. Traci's wise and tender care for me all throughout this process has given me the courage and support I have needed to move forward in these precious relationships. I am eternally grateful to her and to the organization, and I wholeheartedly recommend them to anyone involved in the adoption triad."   -  Ann Longobardi 

  

"I want to thank you for your assistance and professionalism in helping me through what now still seems a bit crazy but a new welcomed door that has been opened in mine and my family's lives." - Ed, an adoptee 

 

"Over the last few months, Traci has patiently explained and re-explained centimorgan charts. She has supported or corrected my conjectures about DNA relationships. She has invited me to meetings, shared relevant blog entries, and helped me figure out how to ask a potential relative to take a DNA test. After many calls and emails, the end result is that Traci has helped me not only to identify my birth father but three additional half-siblings! Finding siblings that might want a relationship is icing on a cake I never thought I'd get to eat." 

 

"ANC went above and beyond in my search for my Birth Parents.  They were Thorough, focused, and compassionate to my needs.  I can't thank them enough and I appreciate all of the hard work & resources ANC provides!" - Matt McNulty 

 

"I would like to thank you ever so much for helping me find my daughter. It meant the world to me.  I wish there were more people in the world that were willing to be more like you.  You went above and beyond with your caring and kindness to help." 

 
Search & DNA Assistance Stories