Permanency Mediation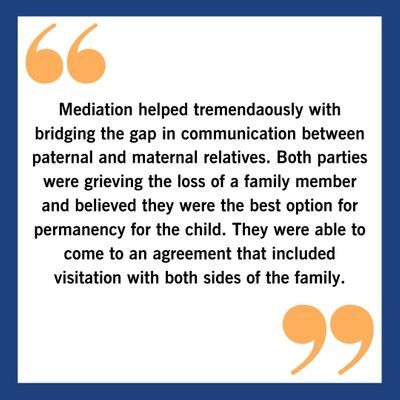 What is Permanency Mediation?
Adoption Network Cleveland's Permanency Mediation program is a cooperative problem-solving process. It is a confidential, private way to discuss issues and explore possible solutions to a common problem. 
This service allows a neutral third party to bring together all the caring and supportive adults in a child's life to discuss and jointly determine how they can best meet the needs of the child, and collectively reach an amicable agreement all of the adults can support. Children may be involved in the mediation as appropriate.
The goal of mediation is to provide a fair process that allows the parties to collectively reach an agreement that meets the needs of the child and maintains as many positive permanent connections for the child as possible. 
Mediation is Not...
court-ordered
overseen by the court
a legal process 
What Situations are Ideal for Permanency Mediation?
Cases often involve situations in which a child has been removed from their home by the Division of Children and Family Services in which there are multiple competing placement options, a desire for others to maintain contact or questions around multiple siblings. Situations involving openness in adoption, kinship arrangements, and others are also good candidates for this type of mediation. 
How to Get Started with Mediation
Families with an open case with the Division of Children and Family Services should request a referral from their worker to Adoption Network Cleveland. Other families can contact us directly and schedule a meeting. 
For more information, contact:
Brian Lutz, Program Coordinator
brian.lutz@adoptionnetwork.org​​​​​​​
(216) 482-2332