Family Ties Parent & Youth Program
Our Family Ties Program takes a holistic approach to serving adoptive, kinship, and foster families through strategies that meet the needs of the family and focuses on their strengths. Through participating, parents discover the tools, knowledge, and support system they need to successfully parent their child(ren) and children feel safe, supported, and capable of developing healthy habits. The program includes one-on-one support, monthly groups, educational opportunities, peer network building, normalizing family social activities, information and referral, and personal advocacy.
Monthly Parent and Youth Groups
The parent group, youth group (ages 11-18), and children's activities (ages 2-10) take place once per month and all run concurrently. A potluck meal is served, and participating families are asked to bring a side dish to share. Childcare is provided free of charge.
Parents engage in educational presentations, peer lead Parent Cafés, or supportive discussions lead by program staff, the parent advisory team, and outside guest speakers. Parent Cafés are structured, small-group conversations that bring parents together to discuss issues that are important to them. These are essential tools used to engage parents directly in building protective factors and enhancing resiliency for families. In our commitment to provide support to families, we also recognize that men in our families need support, too! Fathers and men in other support roles — such as uncles, grandfathers, significant others, and mentors — are invited to join us.
**The parent group is currently meeting virtually due to the ongoing pandemic. Check our calendar for current meeting dates, topics and to register to receive a link to the meeting.**
Youth engage in age-appropriate discussions and activities with peers to explore self and group topics in terms of adoption and foster care, as well as youth development. Childcare for young children ages 2-10 is provided separately and provides an opportunity for expressive play and physical activity with peers.
**Youth are currently meeting separately (one meeting for girls and one for guys) using a virtual format. Please reach out to Danielle Gibson at the contact numbers below for information and access to the meetings.**
Family Social Activities
Creating normalcy and connectedness through typical family activities such as going ice skating, going to the zoo, attending a sporting event, or meeting friends for a group picnic is an important piece of building a social network. Recent research has shown that having a strong social network (friends that understand your situation and support you) improves physical and mental health, resiliency, education, and overall life contentment outcomes for both individuals and families.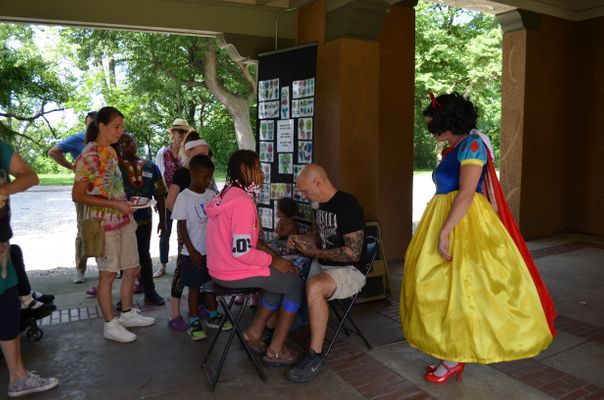 One-on-One Support
Support is provided through both Adoption Network Cleveland staff and peer mentoring. Telephone, email, and in-person meetings with staff provide a compassionate ear, referral to community resources, problem-solving, personal advocacy strategies, and reinforcement of positive parenting techniques. Individual parents can also be matched at their request with another parent who understands their journey and can provide support and encouragement. Parents who use social media are also encouraged to connect with other Family Ties parents through our private Family Ties Facebook Group.
Educational Opportunities
Adoption Network Cleveland provides access to conferences, presentations, and workshops by local, state, and national experts on a regular basis. Examples include parent trainings through the OCWTP program; our Monday Evening Speaker Series, the National NACAC Conference, and Adoption Network Cleveland Journeys of Discovery: Navigating the Intersections of Adoption Conference. For up-to-date information on available opportunities, subscribe to our newsletter and check our program calendar regularly.
Complementary Services
Families participating in the Family Ties program are also connected to other Adoption Network Cleveland programs, including our Educational Liaison Services, Parent Trainings, and our EMBRACE Mentoring Program for adoptive and kinship youth.
For more information, contact:
Donika Austin, Program Manager 
donikea.austin@adoptionnetwork.org
216) 482-2334 OR
Danielle Gibson, Program Coordinator & Educational Liaison 
danielle.gibson@adoptionnetwork.org
(216) 482-2332.