General Discussion Meetings
***Please Note - due to the current pandemic our General Discussion Meetings are going virtual until further notice. Please check the calendar for up-to-date information and instructions on how to access meetings. Anyone can attend a virtual meeting, regardless of where you live! These meetings are FREE. Please join us and connect with other adult adoptees, birthparents, adoptive parents and others impacted by adoption.***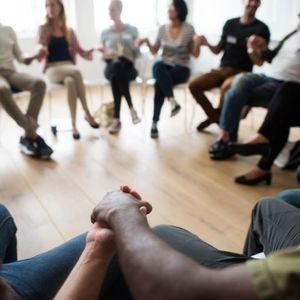 General Discussion Meetings, sometimes referred to as General Meetings, provide a safe place where people can share their feelings and experiences, get support from their peers, and learn from others' perspectives. The meetings have an open discussion format and are attended by adult adoptees, birthparents, siblings, and adoptive parents. Professionals are welcome to come and learn and the meetings are also pertinent and helpful to those who have experienced foster or kinship care, or DNA discoveries such as misattributed parentage or are donor-conceived.
While the majority of meetings are open discussion, occasionally panels   are held on various adoption-related topics, such as "Grief and Loss in Adoption," "Belonging to Two Families: How Adoptees Find a Balance," "The Impact of DNA Surprises," and "Birthmothers' Perspectives." 
Meeting Locations
General Meetings are held throughout the state of Ohio each month as well as virtually. View our calendar for details, dates, special panel discussions, and topics for each meeting. 
The meetings are free and open to all. Membership  in Adoption Network Cleveland helps provide the support that makes General Discussion Meetings possible, and we ask all who attend to consider joining as a member. 
Columbus

Second Tuesday of each month, 7:00-9:00 pm
Columbus Metropolitan Library (Karl Rd. Branch), 5590 Karl Road, Columbus, Ohio 43229

Heights

Third Thursday of each month, 7:00-9:00 pm
Church of the Saviour, 2537 Lee Road, Cleveland Heights, OH 44118

Miami Valley (Dayton)

First Tuesday of each month, 7:00-9:00 pm
Dayton Metro Library - Vandalia Branch, 330 S. Dixie Dr., Vandalia, 45377

Rocky River

First Thursday of each month, 7:00-9:00 pm
West Shore Unitarian Church, 20401 Hilliard Drive, Rocky River, OH 44116

Summit County (Cuy. Falls)

Second Wednesday of each month, 7:00-9:00 pm
Springside Racquet and Fitness Club, 215 Springside Drive., Akron, OH 44333

Virtual General Discussion Meeting

Fourth Thursday of each month, 8:00-10:00 pm Eastern
Online using Google Meet
Pre-registration is required for Virtual General Discussion Meetings. Please visit the calendar for upcoming dates and registration. Clicking on the "Virtual General Discussion Meeting" on the calendar will provide a prompt for registration.
For more information about General Discussion Meetings, contact:
Betsie Norris
(216) 482-2314