General Discussion Meetings
***Our General Discussion Meetings continue to be offered virtually. Please check the calendar for up-to-date information and instructions on how to access meetings. Anyone can attend a virtual meeting, regardless of where you live! These meetings are FREE. Please join us and connect with other adult adoptees, birth parents, adoptive parents, and others impacted by adoption.***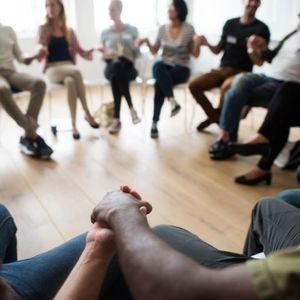 General Discussion Meetings, sometimes referred to as General Meetings, provide a safe place where people can share their feelings and experiences, get support from their peers, and learn from others' perspectives. The meetings have an open discussion format and are attended by adult adoptees, birth parents, siblings, and adoptive parents. Professionals are also welcome to come and learn. The meetings are also pertinent and helpful to those who have experienced foster or kinship care, or DNA discoveries such as misattributed parentage or donor conception.
Meeting Information
View our calendar for details, dates, special panel discussions, topics, and registration for each meeting. Download a printable flyer.
Meetings are currently being held virtually using the Google Meet platform, which can be accessed through a home computer/laptop, tablet, or mobile phone and will require an internet connection or phone data connection. Pre-registration is required for Virtual General Discussion Meetings. Please visit the calendar for upcoming dates and registration. Clicking on the "Virtual General Discussion Meeting" on the calendar will provide a prompt for registration.
The meetings are free and open to all. Membership  in Adoption Network Cleveland helps provide the support that makes General Discussion Meetings possible, and we ask all who attend to consider joining as a member. 
Virtual General Discussion Meeting facilitated by Linda & Elaine

First Thursday, 7-9 pm ET

Virtual General Discussion Meeting facilitated by Marni & Mindy

Second Tuesday of each month, 7:00-8:30 pm ET

Virtual General Discussion Meeting facilitated by Kim & Denice

Second Wednesday, 7-9 pm ET

Virtual General Discussion Meeting facilitated by Dottie & Estes

Third Thursday, 7-9 pm ET

Virtual General Discussion Meeting facilitated by Barbara & Dan

Fourth Thursday, 8-10 pm ET
Meetings with a Specific Focus
While most of our meetings welcome all who are impacted by adoption and foster care, we do have a few meetings that have a specific focus. 
DNA Discovery Support Group facilitated by Becky & Oliver

First Tuesday, 8-10 pm

If you have either found family using commercial DNA testing or been found by family who used commercial DNA testing (examples of commercial DNA testing include Ancestry, Family Tree DNA, 23&Me, My Heritage, etc.) then this is the group for you. You do not need to have a formal adoption connection to be in this group, but you do need to have a DNA discovery for this group to be relevant to you. Examples include individuals with a known connection to adoption such as birth/first parents, grandparents, and siblings, adoptees, donor-conceived individuals; also, individuals with unexpected parentage results among those not adopted such as unknown child discovery, unexpected niece, nephew, or cousin discovery, individuals discovering they are donor-conceived or adopted (late discovery adoptees); anyone who has who found unknown siblings. international adoptees connecting to family including cousins, unexpected grandparent discoveries, and the many other scenarios that are surprising folks with today's widespread commercial DNA testing. The focus of our DNA Discovery Support Group will be the emotional journey of DNA discoveries, we will not be discussing technical aspects.
Special Topics
While the majority of meetings are open discussions, one group per month will offer a discussion based on a special topic. Upcoming topics include:
Thursday, January 20 – Setting Intentions for 2022
Tuesday, February 1 – DNA Discovery Panel: Redefining Family
Thursday, March 3 – Ambiguous Loss
Thursday, April 28 – The Male Perspective on Adoption
Tuesday, May 10 – Ethical Issues and Landmines
Wednesday, June 8 – Maintaining Healthy Boundaries
July – TBD
August – TBD
September – TBD 
October – TBD
November – TBD
December – TBD
For more information about General Discussion Meetings, contact:
Traci Onders, Search Specialist – Adult Adoptees, Birth Parents & DNA Discoveries
Phone: (216) 482-2323
Email: traci.onders@adoptionnetwork.org