General Discussion Meetings
***Please Note - due to the current pandemic our General Discussion Meetings will be held virtually until further notice. Please check the calendar for up-to-date information and instructions on how to access meetings. Anyone can attend a virtual meeting, regardless of where you live! These meetings are FREE. Please join us and connect with other adult adoptees, birthparents, adoptive parents and others impacted by adoption.***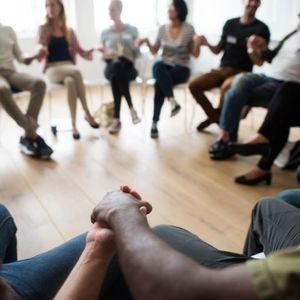 General Discussion Meetings, sometimes referred to as General Meetings, provide a safe place where people can share their feelings and experiences, get support from their peers, and learn from others' perspectives. The meetings have an open discussion format and are attended by adult adoptees, birthparents, siblings, and adoptive parents. Professionals are also welcome to come and learn. The meetings are pertinent and helpful to those who have experienced foster or kinship care, or DNA discoveries such as misattributed parentage or donor-conception.
Meeting Locations
General Meetings are held throughout the state of Ohio each month as well as virtually. View our calendar for details, dates, special panel discussions, and topics for each meeting. Download a printable flyer.
The meetings are free and open to all. Membership  in Adoption Network Cleveland helps provide the support that makes General Discussion Meetings possible, and we ask all who attend to consider joining as a member. 
Columbus

Second Tuesday of each month, 7:00-9:00 pm
Columbus Metropolitan Library (Karl Rd. Branch), 5590 Karl Road, Columbus, Ohio 43229
Facilitated by Marni & Mindy

Heights

Third Thursday of each month, 7:00-9:00 pm
Church of the Saviour, 2537 Lee Road, Cleveland Heights, OH 44118
Facilitated by Dottie & Estes

Rocky River

First Thursday of each month, 7:00-9:00 pm
West Shore Unitarian Church, 20401 Hilliard Drive, Rocky River, OH 44116
Facilitated by Linda & Elaine

Summit County (Cuy. Falls)

Second Wednesday of each month, 7:00-9:00 pm
Springside Racquet and Fitness Club, 215 Springside Drive., Akron, OH 44333
Facilitated by Kim & Denice

Virtual General Discussion Meeting

Fourth Thursday of each month, 8:00-10:00 pm Eastern
Online using Google Meet
Facilitated by Barbara & Dan
Meetings with a Specific Focus
While most of our meetings welcome all who are impacted by adoption and foster care, we do have a few meetings that have a specific focus. 
DNA Discovery Support Group

First Tuesday of each month, 8-10 pm
Facilitated by Becky & Oliver
If you have either found family using commercial DNA testing or been found by family who used commercial DNA testing (examples of commercial DNA testing include Ancestry.com, Family Tree DNA, 23&Me, My Heritage, etc.) then this is the group for you. You do not need to have a formal adoption connection to be in this group, but you do need to have a DNA discovery for this group to be relevant to you. Examples include individuals with a known connection to adoption such as birth/first parents, grandparents, and siblings, adoptees, donor-conceived individuals; also, individuals with unexpected parentage results among those not adopted such as unknown child discovery, unexpected niece, nephew, or cousin discovery, individuals discovering they are donor-conceived or adopted (late discovery adoptees); anyone who has who found unknown siblings. international adoptees connecting to family including cousins, unexpected grandparent discoveries, and the many other scenarios that are surprising folks with today's widespread commercial DNA testing. The focus of our DNA Discovery Support Group will be the emotional journey of DNA discoveries, we will not be discussing technical aspects.
Special Topics
While the majority of meetings are open discussion, one group per month will offer a discussion based on a special topic. Upcoming topics include:
January 21 – Cleveland Heights – A Birthmother's Perspective:  A conversation with birthmothers
February 2 – Miami Valley – DNA Discovery Panel: Dealing with the Emotional Impact of DNA Testing
March 4 – Rocky River – The Emotional Roller Coaster of Adoption
April 14 – Summit County – Reflecting on our Life Choices: Heredity or Environment?
May 27 – Virtual General Meeting – Nurturing the Relationship after Re-Uniting
June 8 – Columbus – Losses in Adoption
July 15 – Cleveland Heights – Shame and Its Power to Enslave Us
August 11– Summit County – Exploring Our Fears Surrounding Adoption
September 2 – Rocky River – Belonging to Two Families and How Adoptees Find a Balance
October 5 – Miami Valley – The Importance of Sibling Relationships
November 9 – Columbus – Ethics in Adoption
December 23 – Virtual General Meeting – Stress and the Holidays
Registration for Meetings
Pre-registration is required for Virtual General Discussion Meetings. Please visit the calendar for upcoming dates and registration. Clicking on the "Virtual General Discussion Meeting" on the calendar will provide a prompt for registration.
For more information about General Discussion Meetings, contact:
Deborah Wentz, Program Associate, Adult Adoptees & Birthparents
Phone: (216) 482-2327 
Email: deborah.wentz@adoptionnetwork.org
Or 
Betsie Norris, Executive Director
Phone: (216) 482-2314
Email: betsie.norris@adoptionnetwork.org