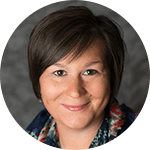 Jennifer Zisk-Vitron became an invaluable member of Adoption Network Cleveland: The Ohio Family Connection, in 2014 as the Youth Services Program Coordinator. As she began working, she saw the direct impact her work had on others.
Driven by her "passion for working with youth, individuals and families, in helping them understand and reach their potential," she was promoted a year later, in September 2015, and has since been the Director of Programs.
In that role, Jen is an integral part of planning and executing the organization's services, working alongside program staff to serve all those touched by adoption, foster care and kinship care arrangements. Her plethora of experience prior to coming to Adoption Network Cleveland brings insight through a multifaceted lens of direct service, management and program development.
"Adoption Network Cleveland is committed to providing high quality programs and services to all those touched by adoption and foster care and that are based on best practices in the field," Jen said. "The amazing staff are dedicated to those that we serve, ensuring their voice is heard and their needs are met."
Inspired by the organization's mission, Jen came to Adoption Network Cleveland to continue with direct service with youth and families. Adoption Network Cleveland offers unique programming to meet the unmet needs of the adoption constellation in northeast Ohio and beyond, as she and the program staff have retooled some of the organizational programs around mentoring, and launched new services this year.
A native Ohioan, Jen is a licensed social worker, earning her bachelors from Kent State University and a master of social work from Cleveland State University. Jen is known in the office for her wonderful baking abilities and upbeat, positive personality. She is happily married with two sons, Ben and Jake, and dog, Argo.
Evan Caroline Clark is the Volunteer and Outreach Coordinator for Adoption Network Cleveland.