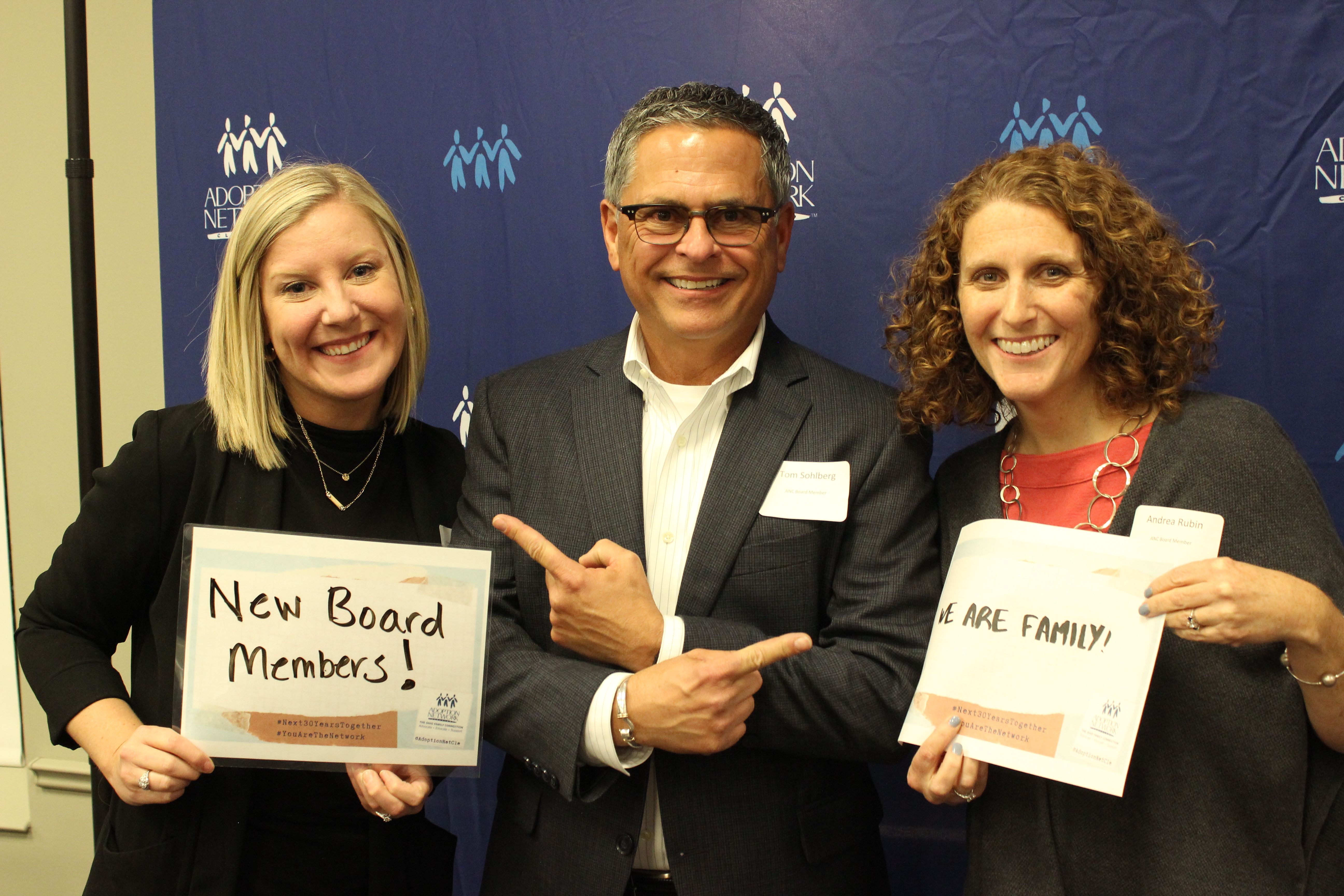 Adoption Network Cleveland welcomes six new board members and one renewing board member to the 2020 Board of Directors!
Adoption Network Cleveland was pleased to welcome six new members as well as one renewing member to the Board of Directors for the next term. New members elected by the Board of Directors at the 2019 Annual Meeting included: Lindsay Domingo, Daniel Leschnik, Cheryl Morrow-White, Tom Sohlberg, Andrea Rubin and Charlie McVan.
We'd like to introduce them all to you…
Lindsay Domingo
Lindsay is the Director of Talent Management at Swagelok and prior to Swagelok she held several positions in communications and human resources at Goodyear Tire and Rubber Company. She graduated from the University of Oklahoma with a master's degree in international relations and studied at the University of Cairo, Egypt studying Arabic studies. Lindsay has a half-brother whom she met when she was 25 and she and her husband are also adoptive parents.
Daniel Leschnik
Dan was born and raised in Denver Colorado, where he attended the University of Northern Colorado. He holds a degree in chemistry and has worked for the same company in the Specialty Chemical Coating Industry for 42 years. Dan is especially interested in immigration stories (past and present) as his father was an immigrant who lived much of his life without parental support. He is also currently a mentor for Adoption Network's EMBRACE Mentoring program.
Cheryl Morrow-White
Cheryl is a board-certified pediatrician who is employed as a medical director for Buckeye Health Plan. She has degrees from Harvard University and Case Western Reserve University of Medicine and completed her pediatric residency at the Children's Hospital of Pittsburgh. Cheryl has been an active volunteer in the community at many local organizations including the American Heart Association, Hathaway Brown and United Way. Cheryl is an adoptive parent. 
Tom Sohlberg
Tom has spent many years in the banking industry focused on organizational leadership, employee engagement, and strategic communication. During the last two years, he has worked as a consultant at Right Management as an Executive Coach/Leader Coach and Senior Consultant. Tom holds a Master of Public Administration from Texas Tech University and an undergraduate degree from the University of South Florida. Tom is an adoptee.
Andrea Rubin
Andrea has spent 25 years as a professional in marketing and communications in both nonprofit and educational environments. She currently works for CWRU – Siegal Lifelong Learning program where she manages the marketing and promotion of programs. She has a BA from Lehigh University and an MBA from Temple University. Andrea is an adoptive parent and is active in the PTA for Orange Schools as well as the JCC Book Festival Committee.
Charlie McVan
Charlie works as an Information Security Manager for Eco Health, Inc. He completed his undergraduate degree from Kent State University in 2005, and his MBA from the University of Phoenix in 2011. He is drawn to serving the Adoption Network Cleveland due to his recent experience navigating the adoption process in his effort to adopt. 
Thom Nykamp
Thom is a renewing board member, having already completed one three-year term. He has been an employee for Eaton Corporation since 1985 and moved to Cleveland more than 20 years ago as a part of his employment with Eaton. While he has held various positions within Human Resources, in his current role he leads the corporate worldwide responsibility for executive compensation. He is a graduate of Calvin College in Michigan. Thom and his wife Celeste live in Twinsburg.
Welcome to all of our new and renewing board members!