Monday Evening Speaker Series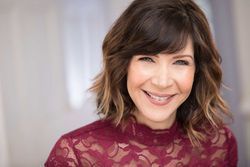 Adoptees as Mothers
With Zara Phillips
Our Monday Evening Speaker Series returns with Zara Phillips discussing the implications for adoptees as they become parents themselves. Her presentation will delve into the feelings and triggers that becoming a mother themselves can have for the adopted person. What does becoming a mother awaken in the adoptee, and do they parent differently than their peers because of their experiences as an adoptee?
Born and raised in London, Zara is an adoptee, author, performer, singer/songwriter and activist. Her acclaimed works include, "Mother Me (2009)," Somebody's Daughter (2018)," and the song, "I'm Legit," cowritten and performed with Darryl McDaniels (DMC of Run-DMC). She has also written a 30 minute documentary, "Roots Unknown - an Adoption Film" which is the Winner of the Garden State Film Festival 's Best Short Home Grown Documentary, and the one-woman show, "Beneath My Father's Sky," winner of the United Solo Festival's Best Direction award. Zara explores the complexities of relationships, and explores the theme of connection and healing through her music, writing and through facilitating workshops. She has presented across the UK and States on adoption topics.
"I'm Legit" by Zara Phillips -https://youtu.be/3TuPIC-1Rmo
Roots Unknown - An Adoption Film - https://youtu.be/-2CBashETD0
Beneath My Father's Sky - http://www.zaraphillips.net/performing/beneath-my-fathers-sky/
You can find more information on Zara on her website at www.zaraphillips.net.