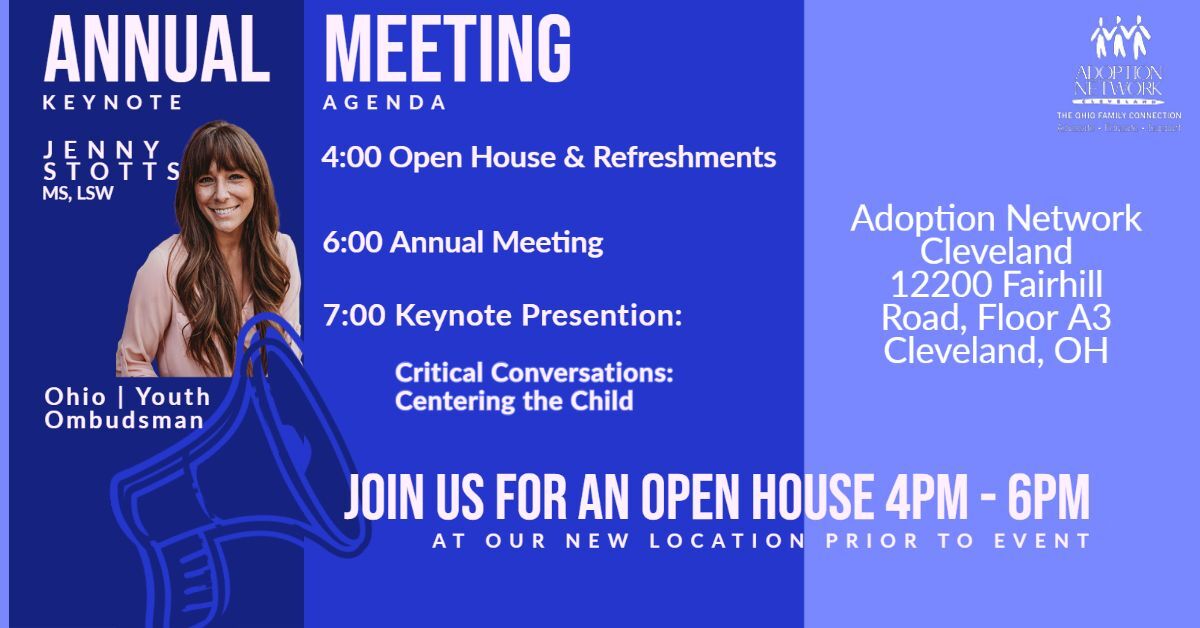 Adoption Network Cleveland's Annual Meeting will be held in-person on Thursday, November 10th. On behalf of Adoption Network Cleveland Board of Directors, and Executive Director (Betsie Norris) we invite all members, donors, partners, advocates, public officials, and the public to attend this celebration our accomplishments of the last year. The evening will include a presentation of awards including ANC's Volunteer of the Year, and Triad Advocate(s) of the Year.
Keynote Address by Jenny Stotts, Ohio Youth Ombudsman
"Critical Conversations: Centering the Child."
Jenny will talk on the high-stress and high-stakes arena of children's services. Her message will focus attendees on centering on the child as a way we can work towards common goals. Additionally, Jenny will speak on the work of Ohio's new youth ombudsman team to improve outcomes for young people involved in the children services system.
Visit our Open House (4:00 - 6:00 PM) at our new office on the 3rd floor for refreshments and greetings, and then join us in the Lakeview Room on the 4th floor for our Annual Meeting at 6:00 PM
This event is in-person, and an RSVP is requested.