Empowering Families for School Meetings | Education Series Part 2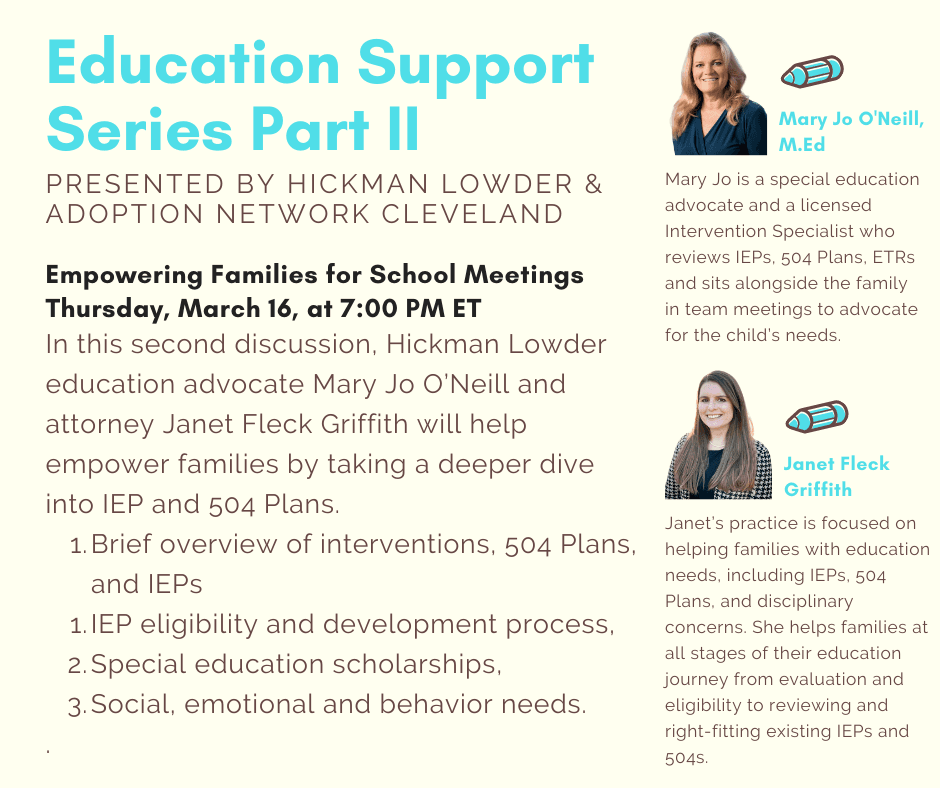 Join us for Part 2 of our Education Series: Empowering Families for School Meetings. Participants are welcome to join Part 2 without attending Part 1 or 3. Parents/caregivers can attend in person at our office. We will offer snacks and drinks to our in-person guests. Please note childcare and dinner is not provided for this presentation. For a full description of the series, click here: https://www.adoptionnetwork.org/file_download/ac7d1066-1ce0-4689-8fb1-6975c3e7e8c2
About Empowering Families for School Meetings
In this discussion, Hickman Lowder education advocate Mary Jo O'Neill and attorney Janet Fleck Griffith will help empower families with knowledge and confidence for school meetings by taking a deeper dive into IEP and 504 Plans:
1. Brief overview of interventions, 504 Plans and IEPs,
2. IEP eligibility and development process
3. Special education scholarships, and
4. Addressing social, emotional and behavior needs.
Throughout the presentation we will provide best practices for parent advocacy, and take questions.
Where, and when (childcare is not available for this session)
In-Person and Virtual education presentation begins at 7:00 PM ET.
In-Person: Join Us on the 3rd Floor (A3) of the Fairhill Partners Building, 12200 Fairhill Road, Cleveland