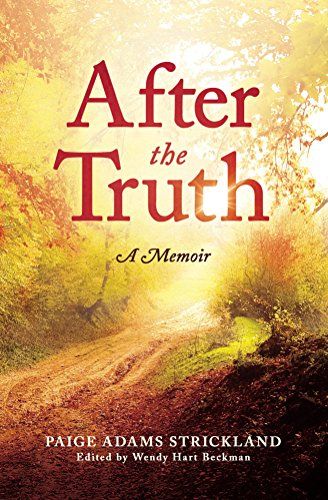 I had not read Paige Adams Strickland's first book, Akin to the Truth, before reading her second book, After the Truth. But this was never a concern since Strickland's After the Truth is easy to follow.
This book addresses the lifelong state of being an adopted person. Strickland had been in reunion with her birthmother and her extended family. At the beginning of the book, she does not have a relationship with her birthfather, but later she develops those relationships with her siblings and eventually her birthfather. 
Although I never had a reunion in my adoption story, it's easy to relate to the author's feelings about family. Photographs are greatly valued and Strickland finds similarities for herself and her children with birth family members. 
One important message drawn from this book is the author's explanation of her desire to search and have ongoing interaction with her birth family. She had a positive adoption experience and a great appreciation for her adoptive family, and she never expresses anger about being adopted. Of course, she wanted to learn her medical history, her ethnicity and where she comes from. She describes a friend, also adopted, this way: "Like me, she had a not-perfect but happy-enough upbringing in her adoptive family, yet understands the urgency to search and the need to feel whole."
After the Truth discusses not just reunion and relationships with Strickland's birth family, it also highlights the way those interactions impact others in many areas of an adopted person's life. Adoptees often hear that they are special and should be grateful to their adoptive parents. Some people, though, may not understand that the desire for search and reunion isn't about replacing anyone. It's often about forming a singular identity from two selves, as was the case for my search.
Reading After the Truth makes me curious to know more about the author's origin story, which is why I plan to read Akin to the Truth. I would recommend After the Truth for anyone who wants better understand the "perspective of adoptism". It is available on Amazon.
Joan Thomsen is an adoptee and volunteer with Adoption Network Cleveland.