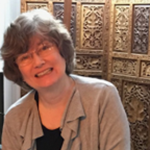 Adoption Network Cleveland: The Ohio Family Connection has benefited from the work of thousands of volunteers over the years. Volunteers are involved in every aspect of the organization, and make us who we are. They develop and lead programs, answer phones, help in the office, bake for groups, provide leadership, and more. Many of our volunteers, like Maureen Heffernan, have been with us for a decade or more. Maureen serves on our Program Committee and leads "Adoption 101: Where Do I Begin?"
Learn about Maureen in this Q&A. Thank you, Maureen, for all you do!
Tell us about yourself.
I'm a social worker, and I currently spend most of time working as a consultant on behalf of the Annie E. Casey Foundation, helping child welfare jurisdictions to improve their outcomes for children and families. I also train Ohio social workers on adoption and other child welfare issues and I'm an Adjunct Instructor at the Jack, Joseph and Morton Mandel School of Applied Social Sciences at Case Western Reserve University. Personally, I have a husband and three grown kids, a son-in-law, and two "spirited" young pups. I'm the oldest of six kids and my parents both immigrated to Cleveland from Ireland.
Why did you start volunteering with Adoption Network Cleveland? I've known the Network since meeting Betsie at one of its very first conferences. I've collaborated with Betsie and other staff on a variety of efforts over the years. I think I began volunteering when I was asked to facilitate the Adoption 101 sessions in 2005. (The first couple were in the old office on 40th Street.) I was glad to find a concrete way that I could support the work of the Network while also offering some useful information to prospective parents as they began to explore adoption.
Has this changed over the years? Not at all. I've enjoyed coordinating with Julius, Linda and other staff over the years to deliver Adoption 101, and it's also been a pleasure and privilege to participate in the Program Committee and help out with other events from time to time. I think I am a better professional and human being because of opportunities the Network has provided to learn from those touched personally by adoption.
What do you think is the most important thing you've learned from volunteering at Adoption Network Cleveland about the issues of adoption/kinship/foster care? Having worked my entire career in and around the public child welfare system, being associated with the Network has given me an opportunity to learn about the many paths to and from adoption that do not involve the public foster care system. Probably the most valuable thing has been the opportunity to learn directly from people who have been adopted, birthparents, adoptive parents and their families.
Does volunteering here feel different from your work, as you work in the field? Good question! In one sense, it feels like an extension of what I do professionally, but in another way, there is a very personal dimension to my connection with the Network due to the profound nature of the stories told and feelings shared.
What has been your favorite 'volunteer' moment? I don't know if I can pick just one! Overall, I'd say my favorite thing about the entire experience has been the relationships I've made with Network staff and members, all through the years and up to today.
Biggest challenge? Sometimes the weather… I live in Kent and there have been a couple of times when the snow made the journey very long!
What are your hobbies? Finding time to spend with my husband and family!
Anything else you'd like to share? Thank you for this opportunity, which has added so much to my life personally and professionally.