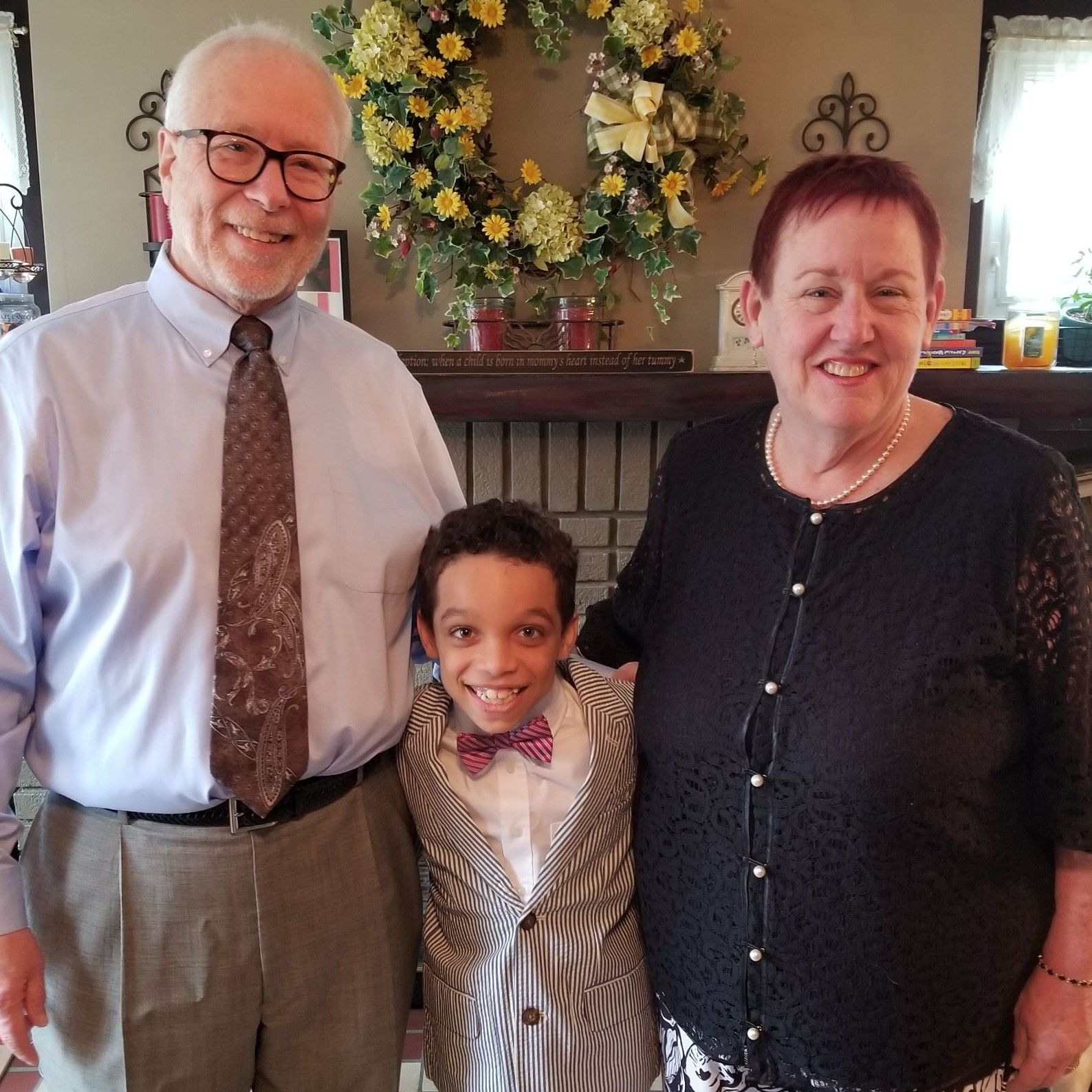 When Mary and Marty first decided to become foster parents, they didn't have a plan to adopt. They had already raised two children, now grown adults. When Marshaun came to live with them at just 13 days old, they thought he would stay with them for only about 18 months, then go back home to live with his birth family after the situation that brought him into foster care was resolved. But Marshaun's case didn't work out that way and by time he was three, Mary and Marty knew he was meant to be a part of their family permanently. Shortly after Marshaun was adopted, they found Adoption Network Cleveland as a resource for their new journey.
Parenting the second time around has been a much different experience for Mary and Marty, who are Adoption Network Cleveland members. Marshaun, now eight years old, was diagnosed with high functioning Autism and ADHD, creating a need for them to learn how to navigate special education services and how to advocate for the supports Marshaun needed to succeed in school. Adoption Network Cleveland's Educational Liaison, Robert "Gib" Gibbons, has offered a great deal of support and guidance for them in this area. He has attended Individual Education Program (IEP) meetings with Mary and Marty and provided information on how the process works, what Marshaun's rights are as a student, and how to effectively navigate the system. Gib also acted as a resource when they decided to make the difficult decision to move Marshaun from the public school system to Julie Billiart, a private school for students who are Autistic or who have ADHD and other learning challenges.
The family also finds support from the Family Ties Program at Adoption Network Cleveland. At monthly gatherings with other adoptive, kinship and foster families, they have found a community of others with similar challenges and joys. Both Gib and Ayanna Abi-Kyles, the group's Family Support Coordinators, provide group and one-on-one support for the families, listening to concerns, acting as a sounding board for talking through issues and brainstorming solutions.
Adoptive parents often face difficult decisions, in some instances around openness in adoption. Marty and Marty understand how important it is for Marshaun to know his birthmother and his personal story. And they were very grateful that Ayanna listened to their concerns about having Marshaun's birthmother in his life with compassion and without judgement, allowing them to work through their concerns and find a solution that was in Marshaun's best interest.
The youth portion of the Family Ties program has been great for Marshaun as he has been able to get to know other children who are adopted. Mary explains that her son has made wonderful friends at Adoption Network Cleveland, and looks forward to coming to Family Ties each month, as well as to Adoption Network Cleveland's social outings. It is especially important to Mary and Marty that Marshaun, as a bi-racial youth, has an opportunity to be with diverse families, and is able to see and interact with people who look like him. The variety of programs at Adoption Network Cleveland offer opportunities for their family to participate in events that are culturally relevant to Marshaun and their family.
Having participated in programs at Adoption Network Cleveland for five years, Mary and Marty are amazed that the organization isn't more widely known, and encourage other adoptive families to participate.
"Come," they said, "you will love it, if even just for the support of other families!"