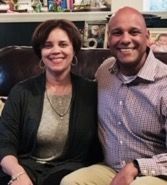 The end-of-year rush can be overwhelming for many of us. Holiday concerts at school, shopping, cooking, preparing for guests and making sure your family is taking advantage of all the wonderful holiday events the season has to offer. We are also bombarded with donation requests from every direction and through multiple media platforms. Nonprofits often hear the term "donor fatigue" around this time of year.
But I believe we all want to support our community, and we simply have more choices when it comes to making decisions concerning philanthropic giving. As donors, we want to be a partner with an organization where we know our donation makes a difference in an area we feel passionate about.
Everyone at Adoption Network Cleveland is grateful that YOU — our donors and members — are passionate about the work that we do and know that your gift impacts the individuals, children and families that we serve. Adoption Network Cleveland: The Ohio Family Connection is celebrating 30 wonderful years of creating real change in the lives of individuals impacted by adoption and foster care. Together, we have supported thousands of individuals through direct support, education and programs, and reached hundreds of thousands through our public policy work.
Your investment in Adoption Network Cleveland makes it possible for our organization to serve all members of the adoption triad, including adoptees, adoptive parents and birthparents. This attention to all who are impacted, and honoring their unique and individual journeys is what makes our services distinctive.
Patti, an adoptee, first reached out to Adoption Network Cleveland in 2001, when she realized that searching for her origins might be a daunting task. She had decided to begin a search for her biological family, but had no idea where to start. "They have held my hand throughout my search," Patti said, recalling her first years with our organization. "I came for search support, but gained so much more." Unfortunately, Patti's search did not turn out as she had hoped, however the non-identifying information she obtained indicated she did have a biological sibling. Patti stayed connected with Adoption Network Cleveland, becoming a part of the Network and gaining strength from the strong community that supported her. In 2015, Patti attended Opening Day of the adoptee birth records in Columbus and received a copy of her original birth certificate. With the support of Adoption Network Cleveland and DNA testing, Patti was able to reconnect with her sibling this year — her brother pictured above!
Your support also benefits programs for adoptive, kinship and foster families, children in foster care and young adults who have aged out of foster care. Earlier this year we shared Mary and Marty's journey to become parents a second time around to Marshaun.
These are both familiar stories for people and families impacted by adoption and foster care. Mary, Marty and Patti may have initially felt like they were the only ones who ever faced these feelings of confusion and isolation. But they were not alone. They had a place to come to for guidance, support and community — Adoption Network Cleveland.
During this season of giving, we ask that you make a meaningful donation today to ensure the programs and support for all those impacted by adoption and foster care are always there whenever they need them. As a valued member of our Network, you know that your donations will make a meaningful impact and that Betsie and the staff at Adoption Network Cleveland will make the most of your gift. You can always be assured that your voice will be heard in the advocacy, education and support that we provide to those in need of our services.
Your donation can be made online or mailed to:
Adoption Network Cleveland
4614 Prospect Avenue, Ste. 550
Cleveland, OH  44103
Thank you for choosing to invest in Adoption Network Cleveland and partner with us to change lives and create futures for those touched by adoption and foster care! May you have a wonderful Holiday Season and a very Happy New Year!
Tammy Willet is the Director of Development & Communications at Adoption Network Cleveland.