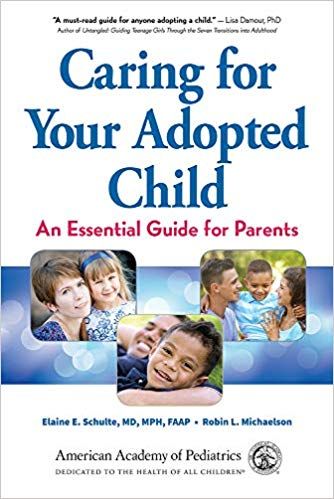 I was honored to be asked to write the foreword for this book that will reach an important, and being published by the American Academy of Pediatrics, largely new, audience. Dr Schulte is a board certified pediatrician and one of the nation's foremost adoption medicine specialists with more than 25 years' experience. She is the founder and former medical director of the adoption program at the Cleveland Clinic. During her time in Cleveland, Dr. Schulte served on the board of Adoption Network Cleveland. She is currently the medical director of the adoption program at the Children's Hospital at Montefiore where she is also vice chair, academic affairs and faculty development. In addition, she is a professor of pediatrics at Albert Einstein College of Medicine in Bronx, New York.
Here is my book foreword:
Caring For Your Adopted Child is a book whose time has come. With close to two million adopted children in the United States and millions of adult adoptees, I'm thrilled to see growing resources, such as this one, that recognize adopted individuals as having unique needs. Adoption is part of who that person is, not something that happened "once."
Today, to the benefit of all involved, the understanding that adoption is a lifelong journey rather than a one-time legal event is now recognized as the standard. As an adoptee who grew up in the 1960s and 1970s, I know firsthand this wasn't always the case. While my parents were open with me and we discussed adoption freely at home, outside our family adoption was stigmatized and "swept under the rug". As a result it wasn't talked about, taught about or dealt with effectively.
As a child I always asked a lot of questions, and I continued to ask questions as an RN working in child psychiatry. Secrecy and denial were not promoted as healthy in any school of psychology. Why then were they the norm in our culture about adoption?
My personal and professional interest led me to found Adoption Network Cleveland: The Ohio Family Connection, a nonprofit organization now in its 30th year. I quickly learned through the hundreds of phone calls I received in the days following our first publicity just how many other adopted persons also longed for a supportive community. This was an idea whose time had come. I have made adoption advocacy, education and support my life's work.
So has Dr. Elaine Schulte, who I met when she was chair of General Pediatrics at The Cleveland Clinic and developing the Cleveland Clinic Children's adoption program. Dr. Schulte, as an adoptive mom as well as a pediatrician, has been a strong and effective advocate for adoptive families. She has given parents a voice and resources that validate their experience and safeguard their children. Her work spans decades through her clinics, education of parents and other clinicians, and her service with the American Academy of Pediatrics and on the Board of Directors of Adoption Network Cleveland.
I'm thrilled Dr. Schulte is sharing her personal and professional wisdom and expertise in this critical resource for adoptive parents. Dr. Schulte, with her co-author Robin Michaelson, walk through each step of the adoption journey with you: from getting ready to adopt, through attachment and emotional issues, medical issues to be aware of, and talking about adoption with your child. I believe the chapter on toxic stress and trauma-informed parenting is especially important as there is so much you, as parents, can do to understand and help your child.
Beyond parents, this book is also an important resource for adoption professionals, teachers, mental health providers, medical providers, advocates, and anyone whose life has been touched by or has a relationship with an adopted person. It's time we all built a sound understanding of what's best for children who are adopted and may have unique medical, developmental, behavioral, emotional and psychosocial needs. This book will help all of us do our best for the adopted children in our lives.
Dr. Schulte is now based in New York City, but served on the Board of Directors of Adoption Network Cleveland during her ten years in Ohio. She has founded an adoption health clinic in each of the locations she has worked – in Albany, in Cleveland and in the Bronx.
Betsie Norris is the Executive Director and Founder of Adoption Network Cleveland.