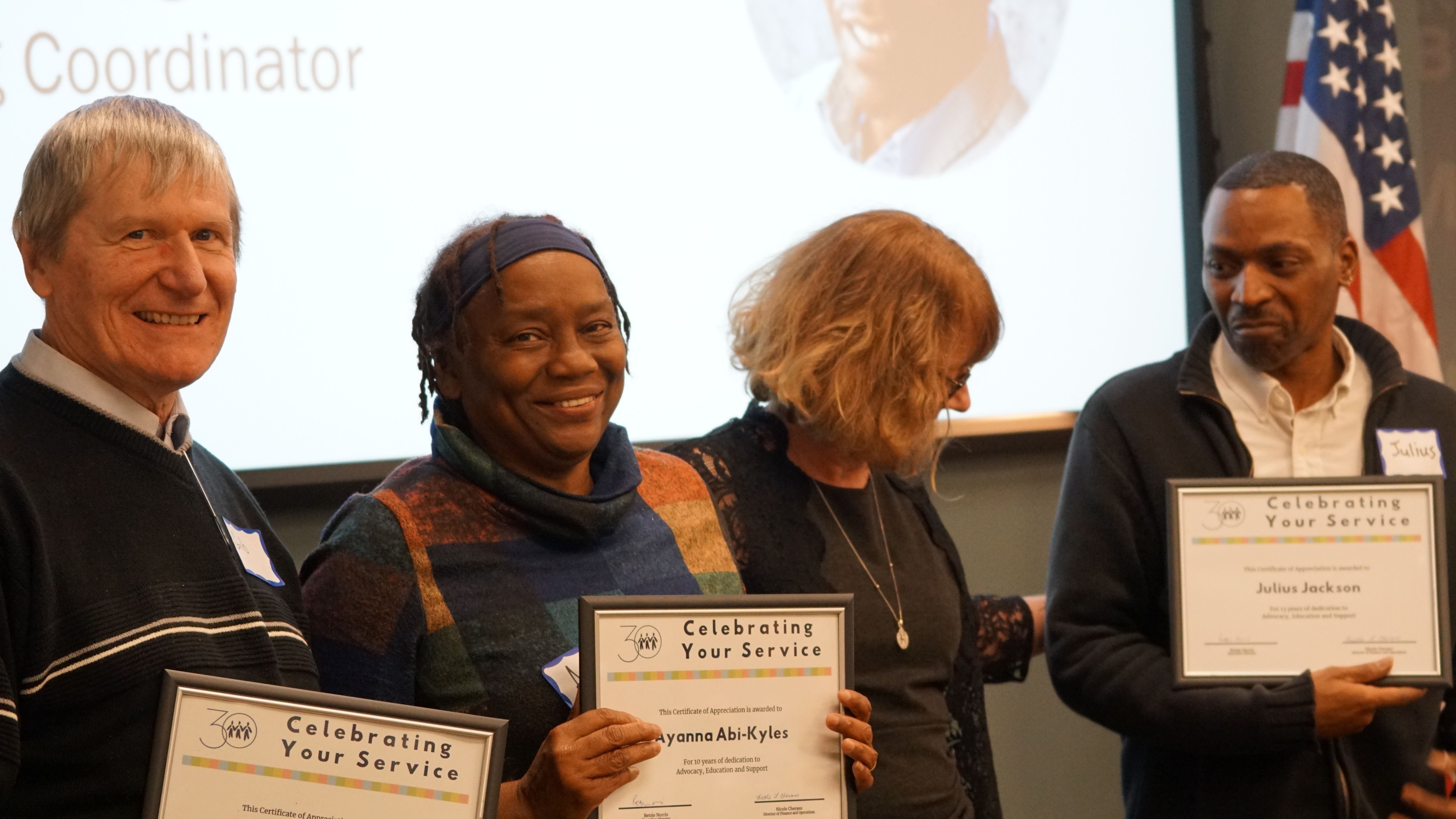 This year at our Annual Meeting in November, Adoption Network Cleveland honored three employees who have each been with the organization for more than 10 years in addition to Betsie. Each honoree is a great asset to the organization, both as professionals and individuals who set the atmosphere of collaboration and respect in our office.
Ayanna Abi-Kyles joined Adoption Network Cleveland in 2009 and serves as the Parent Support Coordinator, overseeing our Family Ties programming and providing support for parents who have youth participating in our EMBRACE Mentoring program. Under Ayanna's lead in 2014 our monthly family support group was the recipient of the North American Council on Adoptable Children Parent Group of the Year award. Ayanna is able to quickly create a safe, comfortable and welcoming space for families to connect and build family bonds. Recently she worked to bolster a Parent Advisory Team to engage parents in leadership roles for the planning and implementation of Family Ties programming. Ayanna's personal interests continue to contribute to Adoption Network Cleveland. She enjoys gardening and has used that passion to start a community garden with the Family Ties families.
Robert "Gib" Gibbons also joined Adoption Network Cleveland in 2009, and has recently taken on a new role as a Family Support Coordinator, combining his experience with our Educational Liaison Services and mentoring programs. In his role as Educational Liaison, Gib draws on his 30 years of experience with the Positive Education Program (PEP) to support families and inform schools about the challenges faced by children in school. He works to provide all involved with strategies for success. Gib also moves mentors through the approval process for the EMBRACE Mentoring program making mentor matches and supporting their relationships. Additionally, Gib works with Ayanna on the Parent Advisory Team. He also plays the guitar in a local band, the Flip Side, and often shares his love of making music with our families.
Julius Jackson joined Adoption Network Cleveland in 2005 and serves as Permanency Navigator, assisting prospective, adoptive, kinship, and foster parents, before, during, and after their journey. Also, as Training Coordinator, Julius coordinates the professional trainings offered at Adoption Network Cleveland through the Ohio Child Welfare Training Program (OCWTP). Julius is always quick to help anyone needing support with a project in the office, and can often be relied on to provide a historical perspective on the organization when needed. Julius has a special skill and passion for helping prospective parents navigate the public system to complete a successful adoption, and knows the "ins and outs" by heart. This year the Permanency Navigator program was included in the California Evidence-Based Clearinghouse for Child Welfare (CEBC). On a personal note, Julius has a love for all animals and is a certified Vet technician.
We're fortunate to have such incredible staff for so long. Here's to many more years with our beloved program staff—Ayanna, Gib and Julius. Be sure to check out their banners hanging outside the Adoption Network Cleveland office building in Midtown on Prospect and 46th Street.