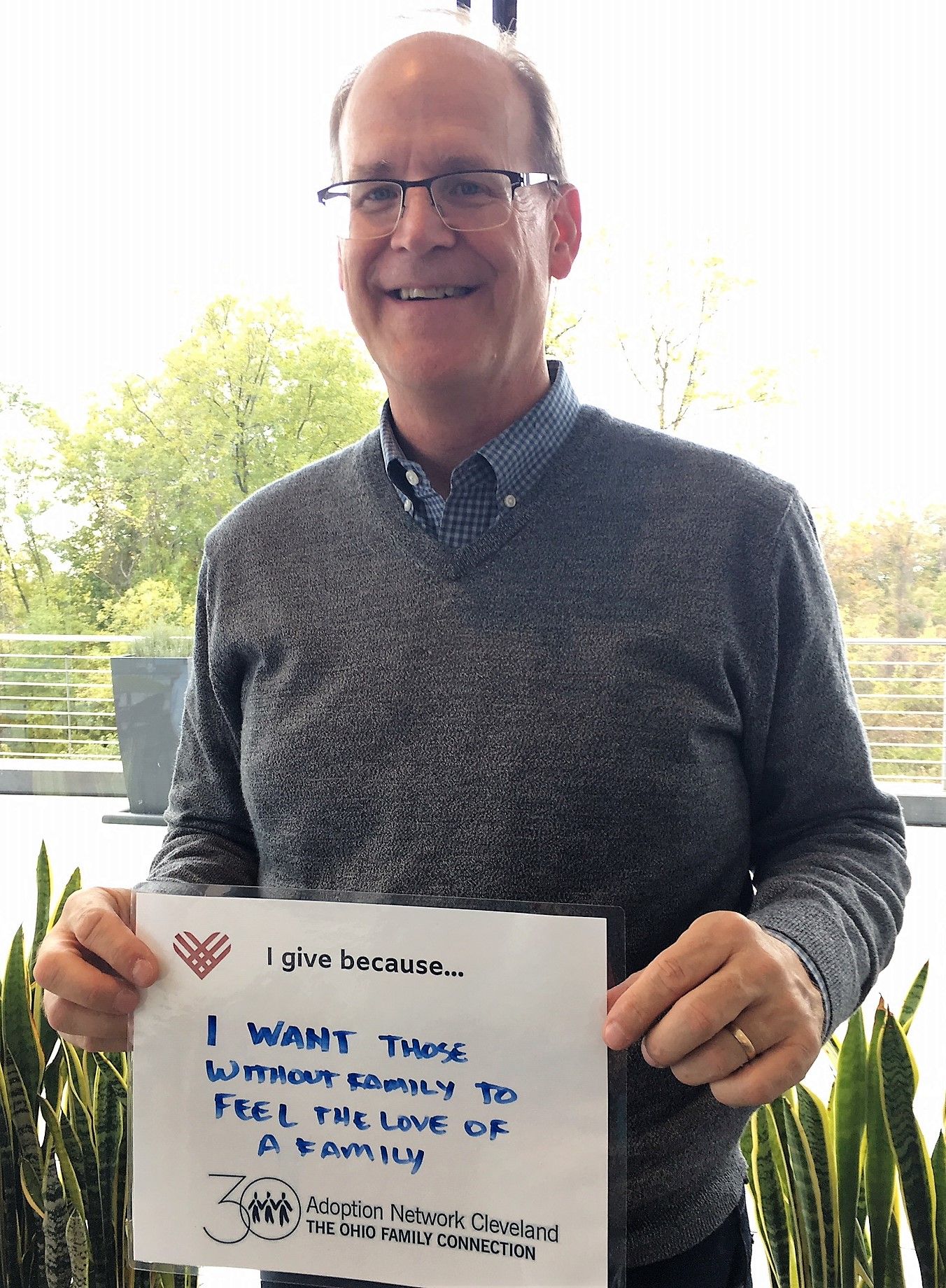 In 2017, Thom Nykamp began his involvement on Adoption Network Cleveland's Board of Directors and has played an instrumental role ever since. Thom currently serves as Chair of the Leadership and Development committee which nurtures new and existing leadership for Adoption Network Cleveland so that individuals find taking a leadership role in our organization both invigorating and fulfilling. Adoption Network Cleveland's Board of Directors and committees are comprised of individuals who are professionals, adoptees, adoptive parents, birthparents and foster alumni.
Thom was led to serve on our board by his neighbor and friend, former board chair Lisa Buescher. Lisa is an adoptee and has been involved with Adoption Network Cleveland for many years, and she invited Thom and his wife, Celeste, to the organization's annual event Creating Future's Silent Auction and Benefit year after year. "The stories grab your heart," said Thom. This event is where Thom truly became inspired through hearing accounts of reunion, search, family and service that were influenced by the foundation of Adoption Network Cleveland's core values over thirty years ago.
"It was the first time I had heard the impact of an adoptee reunited and the emotion," Thom remembers.
Adoption Network Cleveland offers a broad range of services to provide support for members of the adoption triad (adoptees, birthparents and adoptive/kinship parents), youth in foster care, foster parents, siblings and related professionals. "I am going into my third year as a board member, and I still have a hard time articulating the services Adoption Network Cleveland provides because the reach of our services is so wide," notes Thom. Adoption Network Cleveland strives to seek out unmet needs within the adoption, kinship and foster care community and serve them through inclusive services and programming.
Thom has spent his entire professional career in Human Resources at Eaton. He began as a human resource generalist in 1985 and has held increasingly responsible roles at manufacturing plant, division and multiple business headquarters levels in Michigan, Tennessee and North Carolina. He moved to Cleveland in 1999 into a human resource specialist role in executive compensation and has held increasingly responsible roles leading to his current role with corporate worldwide responsibility for executive compensation. Thom says, "It is so important to connect to your community, and Eaton encourages [its employees] to become engaged in the community. I am motivated by the fact that there are so many kids out there that need loving families."
Thom is an active board member, volunteer and donor at Adoption Network Cleveland. To find out how you can become involved, visit www.adoptionnetwork.org/get-involved/.
Evan Caroline Clark is the Volunteer and Outreach Coordinator at Adoption Network Cleveland.