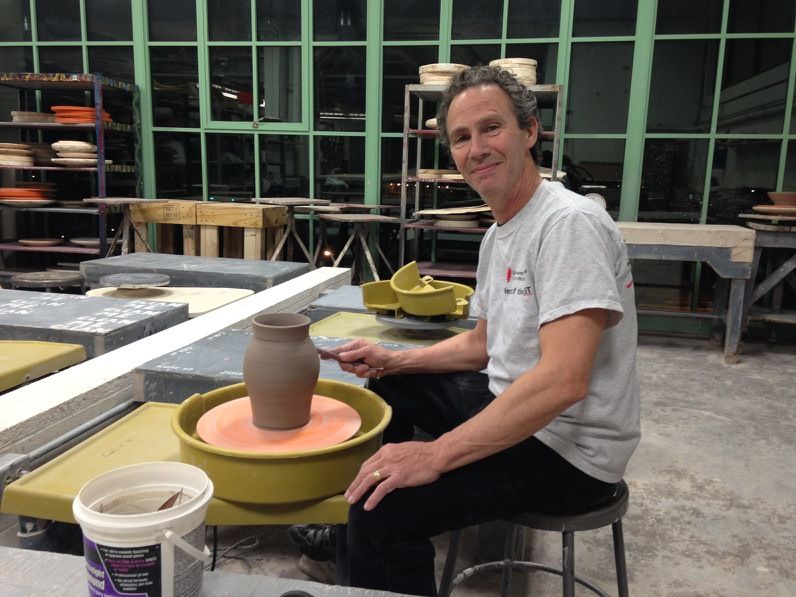 Marty Resnik first found the art of ceramics when his wife, Sherri Appleton, invited him to a class at the Cleveland Institute of Art. Nearly five years later, Marty is using his art for good, by donating his proceeds this year to two local organizations close to his heart: Milestones Autism Resources and Adoption Network Cleveland.
After the Cleveland Institute of Art class, Marty said, "I started making a lot of bowls and I didn't know what to do with them. I was just giving them away, and someone suggested donating them." After the suggestion, Marty considered which organizations he would like to give to.
"I wanted to give back to kids . . . I figure [I] might as well do something that hits close to home," said Marty. Marty and Sherri have two children who are adopted and have been involved with Adoption Network Cleveland for decades. Connection to the cause motivated him to choose Adoption Network Cleveland as one of two recipients of his proceeds. "People don't realize how many people are adopted or have experiences with adoption," said Marty. "If people knew how common it is, maybe they would be more interested in being connected to it, involved, donating, etc."
Sherri, who is also an adoptee, is regularly involved as a volunteer with Adoption Network Cleveland, and Marty wanted to give back to the organization too. During the day, he works at another local nonprofit, University Hospitals, where he has served as a nurse anesthetist for the last 20 years. In the evenings, he utilizes ceramics as a self-care hobby. 
Marty focuses on creating ceramic bowls of different sizes, colors and shapes, which he then sells at the Charm the Heart Art Sale, an annual November sale where artists come together to showcase their work from a variety of mediums. Over the last two years alone, Marty has created 100 bowls that range from $25 to $45.
Marty says the annual sale is a great way to spread the word about Adoption Network Cleveland. He finds himself talking to customers about the services the Network provides, and people are even more willing to purchase when they know their money is going towards a great cause.
Specifically, recent programs like Reconnections have caught Marty's attention. Helping youth who are aging out of foster care is a "huge area of concern" because there is "not enough help out there for them," said Marty. For more information on Reconnections, please visit bit.ly/ReconnectionsANC.
People are often interested in what they already know, but through the Charm the Heart Art Sale, Marty is able to advocate for awareness about adoption and foster care in a whole new way. A couple of Marty's bowls will be featured in the silent auction portion of the upcoming 2019 Creating Futures Benefit & Silent Auction. Bidding will be available online, as well as in person at the event. For more information and event tickets, please visit bit.ly/ancCF2019. Marty's continued support is greatly appreciated by all at Adoption Network Cleveland.
If you are interested in purchasing ceramics from Marty Resnik to support Adoption Network Cleveland, please contact Camille Smith, our Development Coordinator, at (216)-482-2311 or camillerose.smith@adoptionnetwork.org.
Camille Rose Smith is the Development Coordinator at Adoption Network Cleveland.