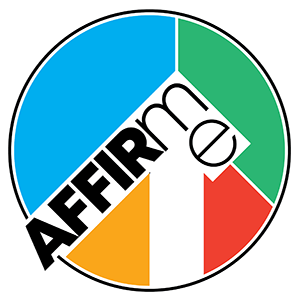 Adoption Network Cleveland is particularly excited to share with you information about the new program, AFFIRM.ME. led by an Adoption Network Cleveland partner, Cuyahoga County Division of Children and Family Services (CCDCFS), because it aligns with our values as an organization. Adoption Network Cleveland is fully committed to inclusiveness and embracing and respecting the diversity of the people we serve. We applaud the AFFIRM.ME. Program's goal to provide safe and affirming homes for LGTBQ2S youth in the child welfare system.
The main purpose of the AFFIRM.ME. program is to provide tailored services and resources for LGBTQ2S (Lesbian, Gay, Bisexual, Transgender, Queer & Two Spirit) identified children and youth, and make sure they are in an affirming environment. CCDCFS is one of four sites selected across the country to receive federal grant funds for this purpose through the Health and Human Services Administration for Children and Families Children's Bureau in partnership with the University of Maryland. Cuyahoga's Quality Parenting Initiative has also partnered with AFFIRM. ME. to develop a video explaining the importance of using youths' preferred pronouns.
Cuyahoga County has developed three interventions for their AFFIRM.ME. program. The first step is called Safe and Confidential Identification. Through this intervention staff are trained to discuss Sexual Orientation, Gender Identity, and Gender Expression—commonly referred to as SOGIE—with every child they provide services for. They're working to change the culture of child welfare in Cuyahoga County through policies and procedures starting with education for staff so they can help children and youth safely identify their SOGIE. Jennifer Croessmann, the Data Manager for the County's AFFIRM.ME. program, speaks to the importance of Safe Identification: "It's changing our whole practice and the way that we're helping people to become more comfortable talking with young people about their SOGIE, and help them identify safely as LGBTQ" and clearly establish to whom they feel comfortable having their information disclosed. 
Croessmann says, Safe and Confidential Identification not only helps children and youth in the care of Cuyahoga County (through foster care), but also those children and families receiving CCDCFS services in their own homes. Without training or education family conflicts can arise when a youth tries to communicate they are LGBTQ2S or have a SOGIE the family is unfamiliar with. In some cases this can lead to the youth being forced out of their home and into foster care. The hope is that through the implementation of Safe and Confidential Identification throughout all programs, parents will have a better understanding of their child's sexuality and fewer youth will feel rejected by their family or end up in foster care as a result of family conflict.
For kinship caregivers and foster parents a specialized training called Affirm For Caregivers is the second intervention offered. It provides four curriculum-based three-hour group sessions for foster parents/kinship caregivers to learn about their own biases, and how they can be both accepting and affirming at the same time. Through Affirm For Caregivers, caregivers also learn how to recognize when they need more support and understand where they can go for resources. Two groups of caregivers have completed the training so far, totaling 16 individuals who have completed the specialized training on LGBTQ2S topics. Parents and caregivers are encouraged to join the Pride Caregiver Network (PCN) to show they are willing and able to:
Be an affirming placement resource,
Become a licensed caregiver, if they are not related to the youth,
Act as a mentor to other caregivers,
Complete additional LGBTQ2S training (Affirm for Caregivers), and
Attend caregiver support groups.
Joining PCN will help caregivers find support from one another as well as connect their children with other children with similar experiences to help provide support that comes from their shared experiences. In addition to Affirm For Caregivers training and joining PCN, those seeking to better understand how to be supportive and affirming are encouraged to watch an animated short from the Biden Foundation in partnership with The University of Maryland. It focuses on the rejection children and youth can experience in their homes and communities, and offers examples of strategies you can use to promote support, acceptance, and affirmation of youth with diverse SOGIE.
The Chosen Affirming Families program is the third element of Cuyahoga County's AFFIRM.ME. program provided by grant partner Kinnect. It is designed in two parts to provide tailored services to LGBTQ2S youth to ensure they live in a permanent home with affirming parents/caregivers. The first part, Youth Acceptance, focuses on repairing the relationships between the youth and their caregivers through psychoeducation. A clinician works with parents/caregivers and family members to uncover their fears and feelings about the situation to "help them move to the next step—towards becoming more accepting and more affirming," Croessmann said. The second part is Family Finding: a practice model to locate and engage as many family members and supportive adults in the youth's life as possible to sustain relational and legal permanency. Croessmann points out this extends a service to these children/youth a step further than their CCDCFS case worker can typically go because it provides an intensive practice model of researching  family members and all positive permanent connections. Family Finding helps youth develop a network of support through engagement and activities designed to build sustainable affirming relationships.
The Community Empowering Movement, a youth led board, is a great way for LGBTQ2S youth to become more involved in the AFFIRM.ME. program. It is led by a young person who understands the experience of being an LGBTQ2S youth in foster care. Those who are between the ages of 16-26 and identify as LGBTQ2S, or an ally, are encouraged to join the Community Empowering Movement to be a voice in determining best practices. They are involved in leadership, training and advocacy by giving specific feedback on the function of the program's services.
As Croessmann said, "It's not just the LGBTQ2S community, we all have a SOGIE and it's important to us all—it's all part of our identity. It is part of that layered identity that we have that includes lots of other things like our race, socio economic status, religion, life experiences, culture, and many more." You can show your affirmation and support for everyone's SOGIE by learning how to properly use pronouns.  Cuyahoga County is always looking for affirming families who want to foster or adopt LGBTQ2S children and youth. Croessmann says these children and youth are looking for "people who will really accept and affirm [them], and let them be who they are.…We're really looking for more foster parents, kinship caregivers and adoptive parents who would be able to come in and provide that need."
Currently, there are 13 youth receiving Chosen Affirming Families services and 9 children/youth waiting to be a part of these services. CCDCFS has identified 39 LGBTQ2S young people currently active with the agency. To find out more information about AFFIRM.ME. program's services please visit the webpage, contact the CCDCFS Foster and Adoptive Parent Recruitment Department line (216) 881-5775 or Kathleen Sullivan at Kathleen.Sullivan@jfs.ohio.gov.
For other LGBTQ+ clinics, groups and other organizations you can refer to this list of resources. 
Margaret Currie is the Grants & Donor Engagement VISTA at Adoption Network Cleveland.