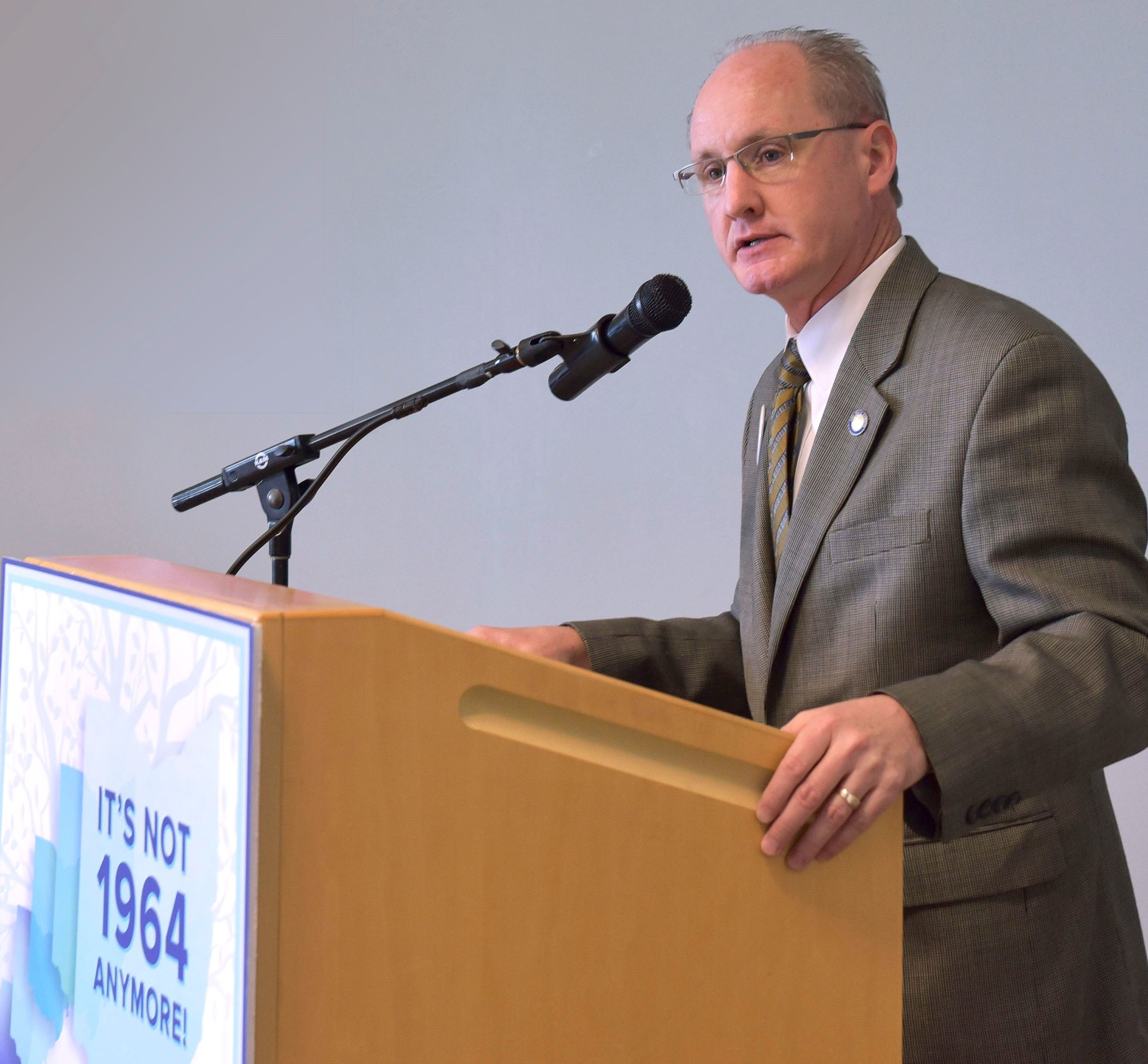 Being a new state legislator is a lot like speed dating. At least what I know about speed dating from TV. I've been married for over 30 years now. Anyway, as a new legislator many groups pay visits to legislators on their lobbying day to meet us, educate us on their issues and ask for our help. One after another, many in a row. Meanwhile, we have our committee meetings to get to as well, so sometimes we have staff meet with visitors.
So it was that I missed Betsie Norris and the Adoption Network of Cleveland when they came to my office on its lobby day.
I did look over the materials she left behind, and I knew immediately I wanted to get involved. You see, adoption changed my life. For many years I didn't realize my older brother and sister were adopted. I'm not sure how old I was when my parents told me – my early teens maybe. It would be a few years later, after our parents passed away, that I would realize how significant being an adoptee was.
So I wanted to get involved - I just didn't know what I was getting into. I was new to the legislature and new to advocacy. Thankfully, Betsie made another trip to Columbus after my staff called her and we discussed some of the issues that were important to the adoption community. One of the biggest was the idea of opening adoption records for Ohio adoptees who were born between 1964 and October of 1996.
To many, the need to open these records was obvious. It was to me. I had watched my siblings do some unsuccessful searching for their birth families in New York – a notoriously closed state. I knew adoptees experience something that those of us who know our birthparents probably cannot understand.
Though Betsie explained the political challenge of opening Ohio's records, I was unprepared for the difficulty of the task. The process of crafting a bill that met the goals of Adoption Network and the other advocates, while accommodating the wishes of the opponents, was where the most time and effort was spent. Meetings and negotiations took time. On the one hand, the overwhelming response from many was "why didn't we do this years ago?" However, there were others who spoke about "promises made" to expectant mothers decades ago and they were determined to honor them, allowing the records to remain closed, even though there were birthmothers testifying as to why they desired reunion too.
We decided that it would be helpful to have two identical bills, one in the Ohio House and one in the Ohio Senate. This way the bill could be heard in both chambers simultaneously, speeding up the process. Betsie and the Adoption Network were helpful in finding some sponsors to carry the bill in the House.
Not only did we have bipartisan sponsorship of the bills, each of us had a connection to adoption. Whether it was adoptees in the family like me; a birthmother in the family, like Rep. Nickie Antonio; an actual adoptee impacted by Ohio's closed records like Senator Dave Burke; or an adoptive parent, like Rep. Dorothy Pelanda, who also worked professionally in the field. We each brought our own adoption experiences to the conversation; which legislators could see right away.
Still, it was a challenge to get the bill passed. Even though we had a diverse group of proponents testifying on its behalf and no opponent testimony, some legislators were privately reluctant to change the status quo.
The turning point came when we were able to get a meeting with Ohio Right to Life, a traditional opponent during previous attempts at similar legislation in Ohio. Thankfully, a new generation of leadership had taken over, including adoptive parents. A thoughtful conversation took place about how they could be supportive of the bill. We made the accommodations we could, such as delayed implementation, and they indeed testified in support of the bill.
For many legislators, the support of Ohio Right to Life made all the difference. The bills were finally voted unanimously out of their respective committees. However, the fight continued as we had to get the bills on to the House and Senate floor. When we finally got our floor vote, the bills passed nearly unanimously.
We enjoyed a special signing ceremony with Governor Kasich. Then, we waited for opening day!
I remember the gathering the night before opening day. Stories shared, friendships forged. To see the long lines of adoptees braving the rain just to turn in their requests for their original birth certificate was an amazing sight. Too often in the legislature we don't get to see the results of our work. This was an unforgettable exception.
We also enjoyed a special event where adoptee and Secretary of State Jon Husted spoke to the public and the media before four adoptees, including Senator Burke, received his or her original birth certificate from Director of the Ohio Health Department, Rick Hodges.
Though this was the end of my involvement in a certain sense, in other ways it just a beginning. I was able to hear of many stories of reunion – some online, others sent me actual letters about their experiences. Not all were happy endings of course, but I sense for those that didn't experience a happy reunion there was, perhaps, a closure that I may not be able to understand.
During a press interview upon my exit from the Senate, I refer to this bill as one of the achievements I am most proud of. It took the advocates, the opponents, colleagues and the efforts of the four bill sponsors to respond to hundreds of thousands of Ohioans who needed an answer to a simple question many of us take for granted: who am I?
Bill Beagle, guest blogger, former State Senator and co-sponsor of Ohio's Adoptee Access to Records legislation.
Note: Join Adoption Network Cleveland for Lobby Day this year on May 8!