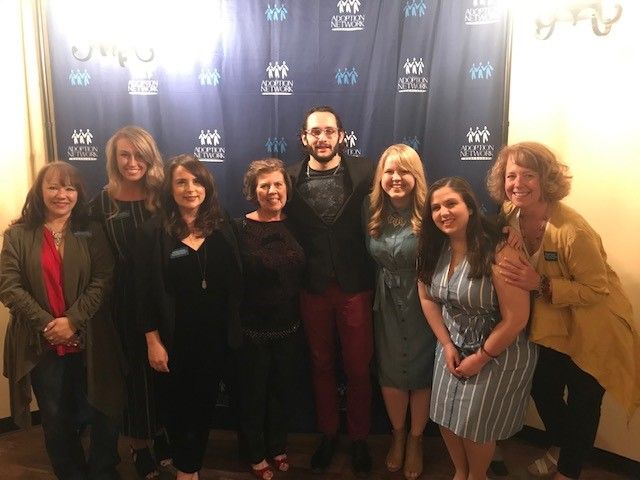 Margaret Currie has spent the last year at Adoption Network Cleveland as an AmeriCorps VISTA in our Development Department. She has been a valuable resource for our development efforts, assisting us in expanding our capacity to identify new grant funders and build our donor base. Thank you Margaret for a great year! We wish you the best on your next adventure, and hope to see you again soon! (Margaret, second from the right) is pictured here with our Development & Communications Team.)
Serving as an AmeriCorps VISTA provided me with a year of unforgettable experience in nonprofit development, but also developed me in ways I could not have anticipated.
On the development team I continuously compiled new research, completed 14 new grant applications, wrote nine blogs, worked at four special events, volunteered at three special family social outings, and helped showcase nine stories of families' and individuals' experiences with Adoption Network Cleveland. At the beginning of my year I learned about topics I had never considered before: Adverse Childhood Experiences (ACEs), Ohio's legislative processes, database use and more technical terms than I imagined existed. While discovering the kinds of challenges faced by adoptive, foster and kinship families and individuals I realized connections in my own life experiences. I dove into my behind-the-scenes work, but it did not truly come to life until I was able to meet the Adoption Network Cleveland community. 
My first true image of Adoption Network Cleveland came into view at the Annual Summer Cookout. I had only been with the organization for about a month at the time, but everyone made me feel like I was already a part of the family. I spent the afternoon burning in the sun with some of the sweetest, most energetic children I've met. From then on I counted down the days until I had my next opportunity to hang with the kids. At the Holiday Party we got covered in glitter and frosting, and kept the fun going the next time I was able to attend Family Ties.
Nothing compared to the love and support I got from my team, specifically from my three supervisors: Evan Clark, Tammy Willet and Camille Smith. Although there were several changes in staff during my year, Evan and Tammy were a constant resource, and were always willing to offer personal and professional guidance whenever I needed it. During the second half of my VISTA experience I was elated to gain a new supervisor in Camille. Our shared humor and love of books and fundraising made our office run smoothly and always brightened gloomy winter days. Our team worked incredibly well together and they were always willing to offer assistance and guidance throughout projects. Tammy and Camille provided me with invaluable insight on best practices for grant writing, fundraising and donor stewardship that I hope to carry with me throughout my future involvement in development. Bouncing ideas off of one another and working through the editing process was so efficient and natural it truly helped lessen the frustrations and stress of the development world.
By far, my favorite activity as a VISTA was working with families and individuals to share their stories. Whether we met in person at Adoption Network Cleveland, spoke over the phone or emailed drafts back and forth, each story made a profound impact on my VISTA experience. I was originally interested in development work because I wanted to connect donors with the lives of those they were funding, but it also revealed new passion in me. Working with the individuals and families to write their stories was magical; it allowed me to see the world through their perspective for a few moments. This reminded me what I love about writing and how powerful it can be. Their stories will stay with me throughout the rest of my life, and have ultimately helped guide my decision to pursue an MFA in Creative Writing.
Although I plan to move away for a few years, I know I will come to events whenever I have the chance to reconnect with the amazing friends I found in Adoption Network Cleveland's staff and constituents. Thank you to everyone who has been a part of my VISTA experience!
Margaret Currie is the Grants & Donor Engagement VISTA at Adoption Network Cleveland.