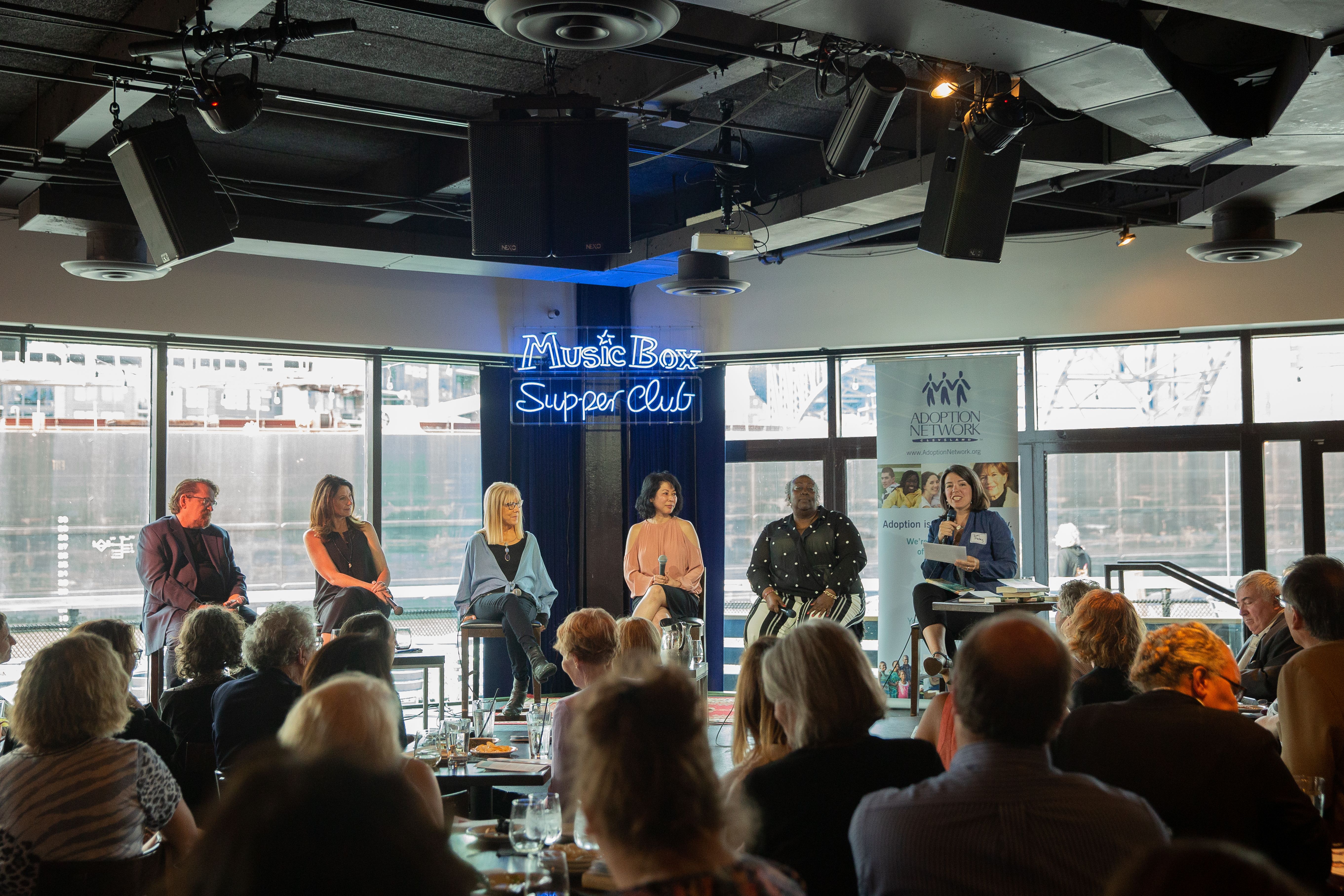 Authors Dan Chaon, Paula McLain, Barbara Raymond, Loung Ung and Abby Vandiver, along with moderator D.M. Pulley, thrilled a full house at the Music Box Supper Club on June 12th as they discussed books, life and the impact of adoption, kinship and foster care in their lives and on their writing. In what turned out to be an incredibly intimate evening with these six talented writers, the audience was treated to a truly unique experience.
Dan Chaon, an adoptee, discussed how the birth of his son prompted him to begin thinking about finding his birth family. Dan admitted that his journey as an adoptee has influenced all of his books at some level. Barbara, an adoptive parent, shared her perspective and gave insight on her research about Georgia Tann, "the baby thief." Many in the audience were stunned to hear how this one woman changed the way we think about adoption in middle class America.
Loung and Abby both shared their family experiences as members of a kinship family. The audience laughed as Loung, a poised and gentle-appearing individual, described how hard she was on her older brother, who raised her after they escaped Cambodia during the Khmer Rouge regime. She laughed as she said, "I was wild and just awful to him." Loung also touched on sibling relationships, how rich "family loving family" truly is and how sad it is that the relationship between siblings is so devalued in our society. Abby explained how being part of a family in which both kinship and adoption play a role occurs naturally in her books. She had never really thought about it, noting that it is just her family's "normal."
Paula McLain discussed how writing her memoir, Like Family: Growing Up in Other People's Houses was a scary and therapeutic experience for her. She also touched on growing up in foster care and how it still impacts her life, sharing that she unfortunately did not have one positive experience while in foster care, beyond being kept together with her siblings which provided a bond that carried her through.
Moderator D.M. Pulley asked each author thoughtful questions and kept the conversation focused and personal over the course of the panel discussion. The evening concluded with an opportunity for guests to purchase books by the authors and have them autographed. The book signing turned into an authentic moment for guests to personally share their stories with the authors, ending the evening with social connections.
The underlining theme of the evening was how important it is for the adoption, kinship and foster care communities to share their stories, including going through the process of writing them down. The act of writing leaves the author in a position of vulnerability, but it can also be a place to find strength and truth. Adoption Network extends a heartfelt "thank you" to all of the authors who participated in Family Reflections, and to all those who attended the event.  Please take the opportunity to view the event photo gallery.
To find out more about these amazing Cleveland authors and their books, please visit their websites. 
Dan Chaon: http://danchaon.com/
Paula McLain: http://paulamclain.com/
Barbara Raymond: http://www.babythief.com/
Loung Ung: http://www.loungung.com
Abby Vandiver: http://www.abbyvandiver.com
D.M. Pulley: https://www.dmpulley.com/