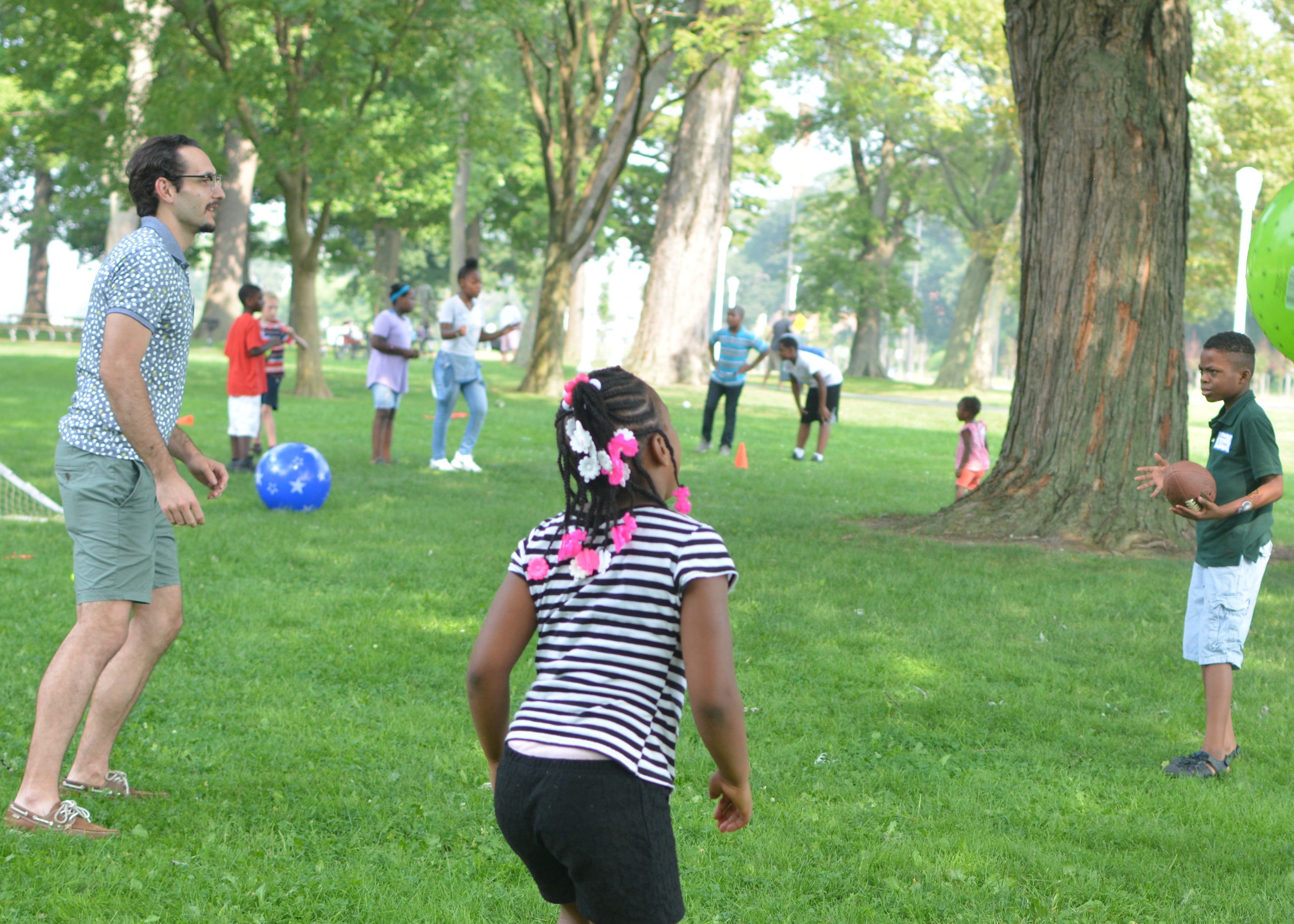 I can still vividly remember the night before my first day of being the new VISTA at Adoption Network Cleveland. It was their annual Summer Cookout and I was assigned to play with the children we serve, certainly not something I was expecting on the first day on the job. I hadn't fully unpacked from my move from New York and was sifting through my assorted luggage looking for what I should wear. I was envisioning so many different theoretical ways to make a first impression on my new colleagues mixed in with all the worst possible scenarios that could happen while I was playing with the kids.
Looking back on it now it seems so silly that I was so worried about it because everyone at Adoption Network made me feel so welcome right away. From my new coworkers, including the ever-helpful my supervisor Evan Clark, to all of our families enjoying an afternoon in the park, and especially to the energetic children who were so eager to play with me. One particular memory which will I think I'll remember for the rest of my days was when a group of boys had grabbed a soccer ball and asked me about dribbling and passing techniques. I had immediate flashbacks to my childhood days as a soccer player and started to channel my inner dad and started to coach them. They gathered round listening intently as I passed on what felt like the ancient ancestral knowledge of how to pass with the inside of your foot, not the top. That feeling of passing something on to the next generation was something, being the youngest in my family, that was new to me.
It was experiences like this that defined my year as the Volunteer and Outreach VISTA. There were many new challenges that I faced; some I expected, others less so. Learning how to run a social media page, struggling over code for the new volunteer database I developed, developing the lingo I would use to get interest at outreach events, all things I struggled with, but I knew that I would when I took the job. But it was the things that caught me off guard, like learning how to be a role model, how planning major events works, and just how complicated a nonprofit's funding situation is. But I was grateful for all of it, because I got to see first-hand how nonprofits are run, which was the main reason I wanted to become a VISTA.
I wanted this experience because it is my dream to one day found my own nonprofit, dedicated to fighting childhood obesity. While it may not be my next step, I know that the things I learned here will stay with me as a I work towards that goal. I'm so grateful to Adoption Network Cleveland for this opportunity and I hope I was able to impact them as much as they impacted me. Thank you to everyone at Adoption Network!
Nick spent a year at Adoption Network Cleveland as an Americorps VISTA focused on increasing membership, volunteerism and program outreach within our organization. Nick's take-aways demonstrate the diversity of challenges and joys experienced working at a nonprofit organization every day!  Thank you Nick for your patience, hard work and diligence during your time with us. We wish you the very best future possible as you embark on your next adventure!
Nick Weaver is the Volunteer and Outreach VISTA at Adoption Network Cleveland.