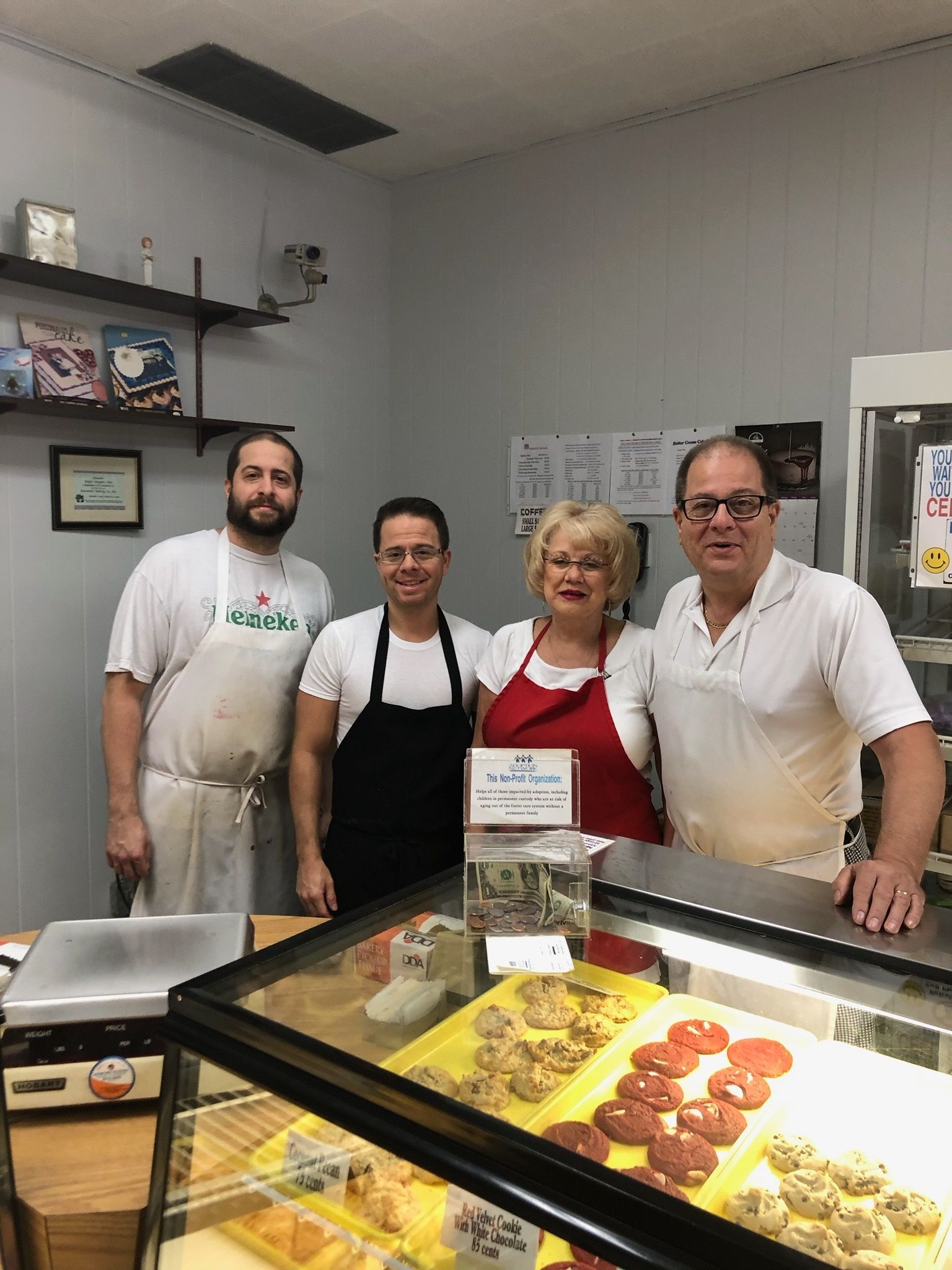 Workplace giving can come in many shapes, sizes and methods. One way that businesses with store fronts can use is to partner with employees and customers through a donation jar at their cash register. Baraona's Bakery donates regularly to Adoption Network Cleveland through a donation jar, making a significant impact on our services, and they also have the opportunity to spark conversation and learn more about their customers!
Family owned Baraona's Bakery in Maple Heights has been a part of the Cheraso family and the Cleveland community since 1949, serving delicious bakery goodies made from scratch. Their recipes have been handed down from generation to generation and continue to delight patrons of all ages. The staff includes Frank Cheraso, his wife Gail, and two of their sons, Michael and Anthony. Other members of the community that live in the area make up the rest of the small staff. Two of the bakers have been with the bakery since the 1980s.
The Bakery first became involved with Adoption Network Cleveland in 2017 after daughter Nicole started as the Director of Finance and Operations. Gail thought it would be a nice idea to raise money for a good cause, and easily convinced the rest of the family and staff. She liked knowing that lots of people in the community were impacted by adoption and foster care, probably even many customers, and that Adoption Network was doing great work to support those individuals and families. Gail especially liked that the organization provided programs for youth aging out of foster care. They decided to place a donation jar at the cash register, and let customers make donations if they chose. 
Since Baraona's placed a jar at the cash register, many customers now tell Gail and other staff ringing up their order about their personal connection to adoption and put money in the jar. Some repeat customers put money in the jar every time they come in. Gail keeps a current thank you letter from Adoption Network near the jar to share with the customers so they know how appreciative the organization is for their donations.
Gail emphasizes that having a donation jar is an extremely easy way for a small business to make an impact for organizations that they believe in, and that it also helps to build community by involving their customers.
If you own a business with a store front that would be interested in having donation jar, please contact Margaret Currie, Development Coordinator, at Margaret.currie@adoptionnetwork.orgor (216) 482-2322.
Tammy Willet is the Director of Communications and Development for Adoption Network Cleveland.