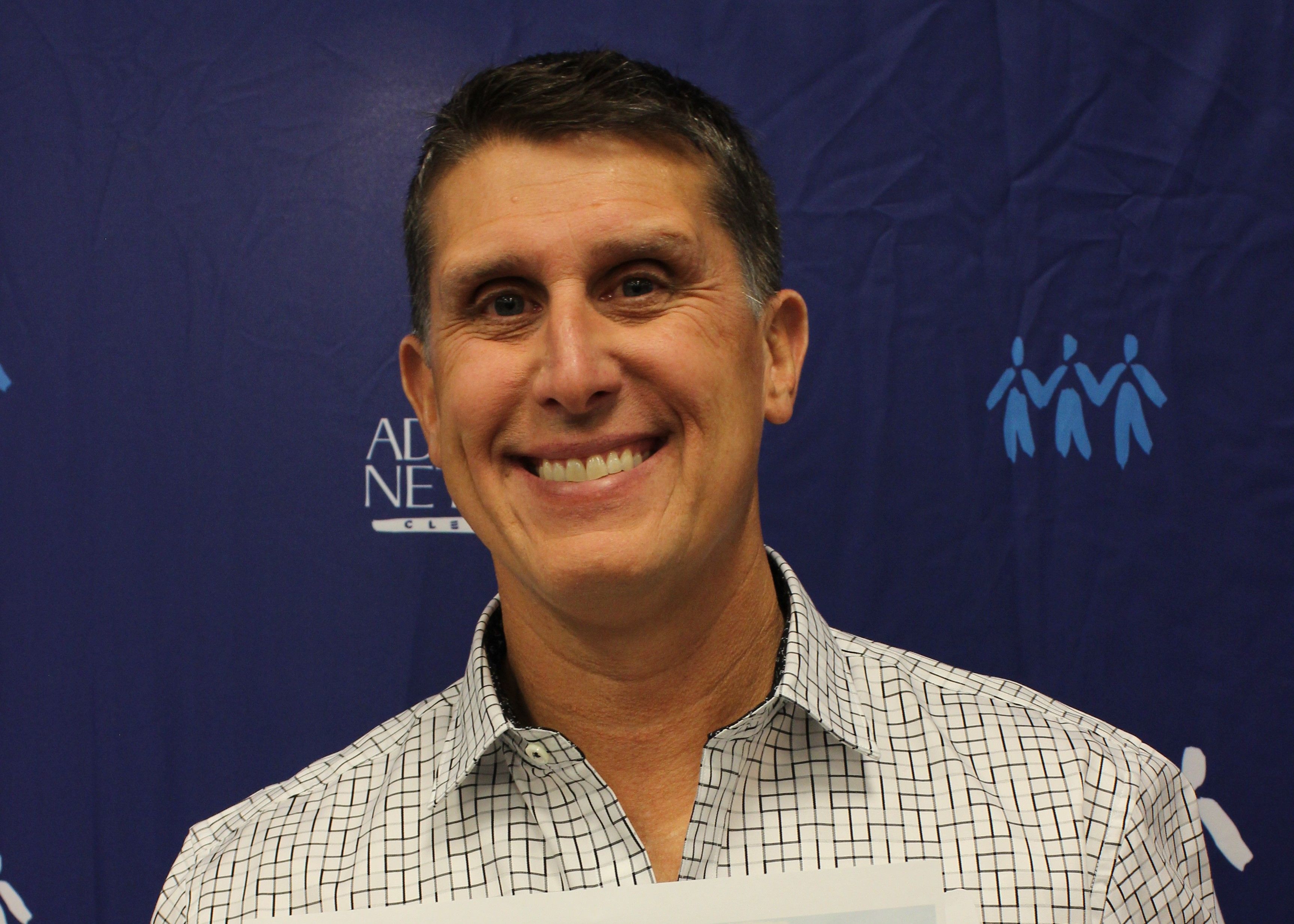 Our Volunteer of the Year Award recognizes outstanding volunteer service, the spirit by which this organization was founded 31 years ago, and which is still critical today.
This award provides Adoption Network Cleveland with an opportunity to honor and thank volunteers that support the organization in meaningful ways. Adoption Network Cleveland has so many deserving volunteers it is always hard to narrow it down to one each year. However, as we reflected on the past year, one volunteer clearly stood out. 
We love nothing more than when people who use our programs then stay involved and eventually jump in as volunteers to make things happen. And so it is with Dan. Dan has been a part of the Adoption Network since 2013 when he attended his first General Discussion Meeting. Since first being introduced with the organization, he has volunteered off and on at special events, speaking on panels and other projects. Early on Dan became an ambassador – as a volleyball coach, Dan put our logo on the back of his clipboard as a conversation starter. After his reunion, Dan got a tattoo to commemorate the event – the date of his reunion and our logo! 
This past year Dan really stepped up his volunteering commitment and made a huge impact completing several office improvement projects that staff just could not find the time to complete. He reorganized and transformed the childcare room that we use for our Family Ties program. He helped us pick up and place several large furniture pieces, including all new-to-us tables and chairs for our training room and conference room – he even used his own vehicle to pick up part of the donation! He hung several pictures, bulletin boards and awards around the office, did many general maintenance projects in our space and basically spruced up the entire office. Dan continues to be there for anything we might need and this is greatly appreciated. 
As a regular attendee at our general discussion meetings for years, in May of this year, we recruited Dan to co-facilitate our online webcam General Discussion Meeting. He did not disappoint, and after training began co-facilitating the online meeting along with Barbara Robertson. These meetings are gaining in popularity, and in fact, we encourage anyone who is not able to attend a General Meeting in person to try it! Dan and Barbara do a lovely job facilitating the meeting.
For his dedication to Adoption Network Cleveland and those we serve, we are extremely pleased and honored to have Dan Smith as our Volunteer of the Year. Thank you, Dan, for all you do for the organization and for the individuals, children and families we serve!