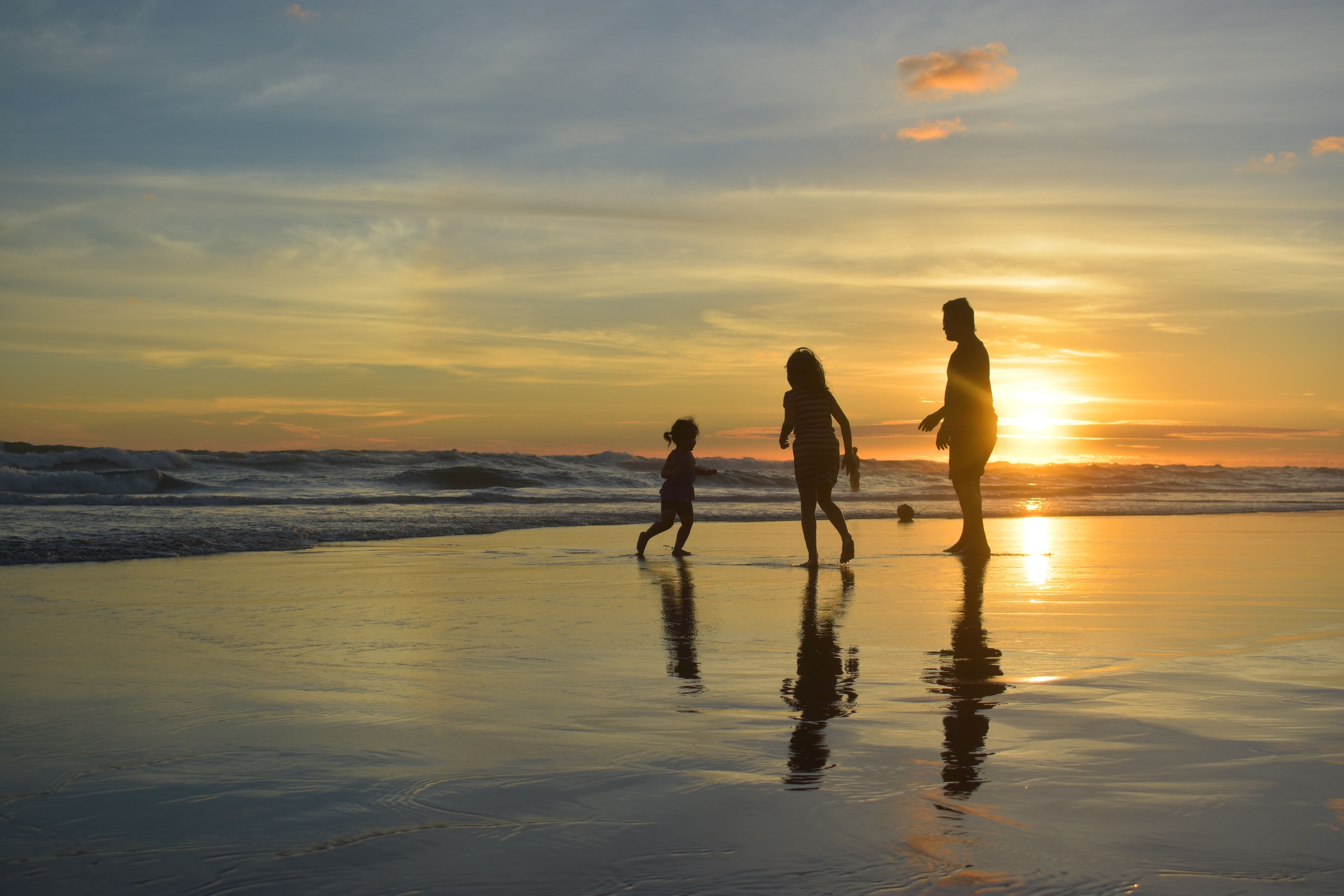 From the newsletter archives, we share this story from a transracial family.
We are a blended family formed from the blessing of adoption. My husband is Caucasian, I am Indian American, and our adoptive son is Caucasian. At three, when Krishna first began to note his own physical differences from mine as his mother, i.e. hair and skin color we started our first conversations about adoption. His first words on the topic were, "I adopted you." As his adoptive parents, considering the synchronicity of Krishna's presence in our life, we had to agree that indeed, in so many deeply subtle ways, it was Krishna who adopted us rather than the reverse. Since then our family introductions to therapists and strangers have echoed these words. 
The fact that I was born and raised in India was a concern even at the first meeting I had with our local children's service staff when we applied to be certified as a foster-to-adopt family. I was worried that the laws would not permit me to parent a child in this country despite being a naturalized citizen. However, I was quite surprised and reassured to hear the director say that she did not think it would be a problem. Indeed, as we were approached by the agency for various placements, the critical need for forever families became clear to me. James and I felt encouraged that having a child in our lives would be a real possibility.
We went through a year-long training and vetting process with the agency. While we found many of the classes provided by the children's service agency immensely useful and informative, there was nothing that quite prepared us for the challenges of transracial adoption, especially of a brown family adopting a white child. The nuances of our not-so-common situation, came to light only after we had received and accepted a placement of a special needs infant into our home. As we connected with more adoptive families, I came to realize that there are many more white families that have adopted children of color or of Asian descent than families of color or of Asian descent that have adopted white children. Books and commentaries on social media or online also more often relate to experiences of the former.
Initially, when I would be out on my own with my infant son, at shopping malls or other public venues, I would notice that people treated me more like his caretaker rather than his mother. Often my response to people who question our physical differences, upon my husband's suggestion, is this quip, "he gets his blue eyes from his grandma." This simple response would often take them by surprise, sometimes bring a smile and deter any further questioning. If my husband were accompanying us, people would more readily accept that we were a mixed family. His 6'7" tall frame would certainly help as well. Despite the fact that we were not the first in my husband's side to have created a family through adoption, many close family members struggled to accept the situation. Ironically, the brown side of the family has found it easier to accept our unique family make up. 
More recently, our toddler son has found himself in a situation having to explain the differences in our family to his friends at school. He seems to have to answer the question more so than I do, as to why his mother does not look like him, whether it is the blue eyes versus the brown eyes or the blond hair versus the brunette. 
My interest in sharing our family story through this article is to encourage and offer support to other couples like us that may be considering adoption. While my husband and I still feel like we are new to this experience ourselves, we hope that just by reading our story, we may be able to inspire others to walk this journey as well. Our child also experienced major physical trauma at birth that led to a developmental disability. As we walk this path, I have come to realize that living in a metropolitan area like Cleveland has been a big blessing. If we were asked to offer a single piece of advice to future transracial parents like us, it would be to live close to or in a metropolis where you will find more acceptance of racial differences. 
We got involved with Adoption Network Cleveland's Weaving Cultures Transracial Adoptive Family Group after being members for nearly two years.  The biggest benefit in our minds has been the opportunity to expose our son to other families that look like us, where he does not need to explain our racial differences. The world has become a very small place today. As a parent of color, I am glad that our son will grow up cultivating an empathy not only for racial and physical differences but differences of all kinds.
If you are part of a transracial adoptive family, please consider joining our Weaving Cultures Transracial Adoptive Family Group. This group meets monthly for soft shoulder parent-to-parent support, family socializing and resource sharing. For more information, contact Donikea Austin, Program Manager at (216) 482-2334 or donikea.austin@adoptionnetwork.org. You can also connect through the group's private Facebook group at: https://www.facebook.com/groups/WeavingCulturesTransracialAdoptiveFamily/