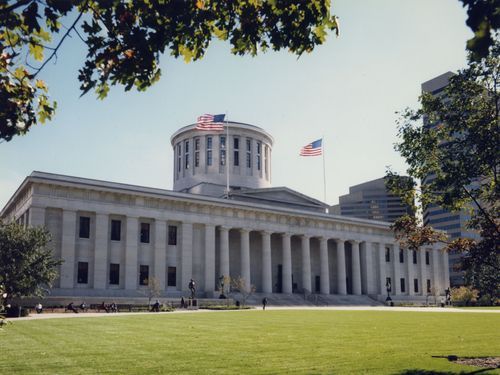 Since our founding, public policy and advocacy efforts on issues connected to adoption and child welfare have been core to Adoption Network Cleveland's mission. Today, this work is continued with the assistance of our Public Policy Committee and ensures your voice is heard. 
The Public Policy Committee is a group of dedicated volunteers and staff who strive to shape and promote our positions, keep our community informed, educate legislators, and keep an eye on initiatives as they develop. They are a diverse group representing a variety of aspects of the adoption constellation who come together to support progressive changes to Ohio policies and laws. But what do they actually do? These volunteers are always listening, watching, and bringing attention to issues impacting our community. They give us a voice! 
The committee works with longtime Adoption Network Cleveland consultant and Statehouse veteran, Aaron Ockerman, to craft future legislation, examine current legislation, shape the organization's positions, collect relevant testimony, and work with members of the General Assembly to introduce legislation representing our interests. The Public Policy Committee also serves as a resource for legislators seeking information and insight about your experiences and helps to coordinate our members' impactful voices. Each year, the committee organizes a Lobby Day for our members to go to the State Capitol in Columbus to speak with Ohio State Representatives and Senators about our platform. In 2019, a group of members collectively met with 96 legislators, leaving them with information, a jar of candy, contact information, and a deeper understanding of needs across the state in the areas of adoption and child welfare. Lobby Day is vital to develop relationships with state legislators and cultivating legislative champions who are passionate about our issues. These relationships are the key to helping our elected leaders understand the unique experiences and needs associated with the impacts of adoption, foster care, and kinship care. 
Right now, the committee is focused on advancing the following initiatives and issues in the coming two-year Ohio legislative cycle (2021-2022), including activities to: 
Establish laws and policies to safeguard and maintain sibling connections 
Support the creation of a foster care ombudsman's office in Ohio 
Increase state child welfare funding including equitable support of kinship caregivers 
Establish laws and policies to address fertility fraud 
Examine and promote ethical and equitable standards in adoption and child welfare 
Many of these initiatives were also supported in the last two-year cycle and before. If there's one thing Adoption Network Cleveland knows to be true, it's that worthwhile advocacy outcomes often take time. 
This year we're celebrating the 5th anniversary of our biggest advocacy achievement for adult adoptees in Ohio, the passage of Senate Bill 23. This law gave hundreds of thousands of adoptees access to their previously closed original birth certificates. This particular effort took 25 years to complete! As Adoption Network Cleveland's founder, Betsie Norris, worked through her search for her birthparents in the 1980s, she learned of Ohio laws that prevented adoptees born and adopted after 1963 from accessing their original birth certificates. She was struck by the inherent social justice issue: while having been born prior to 1963 she could get her original birth certificate, but adoptees just a few years younger than her could not. In response, she led Adoption Network Cleveland in a grassroots advocacy initiative to ensure that all adoptees in Ohio could have access to their records. 
Led by Adoption Network Cleveland, dozens of volunteers worked tirelessly to help adoptees gain access to their personal documents by initiating bills in the 1980s, 1990s, and 2000s that made an impact, but faced significant opposition, and ultimately did not pass. A watered-down version passed in 1996, leaving adoptees adopted after that year with access to their original birth certificates. 
Those years of phone calls, making signage, writing letters, drafting amendments, building strong coalitions, and presenting testimony did lead however to the ultimate passage of the sought-after impactful law for Ohio adoptees. 
In 2013 a dream team of legislative sponsors was formed and Adoption Network Cleveland initiated Ohio Senate Bill 23/Ohio House Bill 61 to repeal the law-keeping adoptees born in Ohio between 1964 and 1996 from gaining access to their original birth certificates. Adoption Network Cleveland's campaign that year was branded Restore Ohio Adoptee's Rights: ROAR in 2013! This successful effort culminated Adoption Network Cleveland's lifetime of advocacy on this issue and made the records of 400,000 adult adoptees accessible, finally, to the person to whom they most intimately pertain – the adoptee. 
Senate Bill 23 sailed through with little opposition due to progress made over the years and with minor modification was signed into law that December. On March 20, 2015, twenty-five years of public policy advocacy was commemorated with a ROAR when SB 23 was fully enacted, granting all Ohio-born adoptees from the previously closed records era access to their original birth certificates. Adoption Network Cleveland organized events over two days to celebrate and hundreds of Ohio-born adoptees flocked to Columbus to attend. Many traveled across the country to participate, build community, and apply for their original birth certificates together. As of December 2019, more than 14,000 adult adoptees have obtained their original birth certificates since March 2015. 
There are a plethora of ways you can share your voice, be heard, and make a difference in others' lives. Visit the advocacy page on our website for information on current issues as well as past efforts. If you're interested in joining the Public Policy Committee, contacting your state legislator, attending Lobby Day, providing testimony, or learning more, please reach out to Betsie Norris at Betsie.Norris@adoptionnetwork.org or call (216) 482-2314.