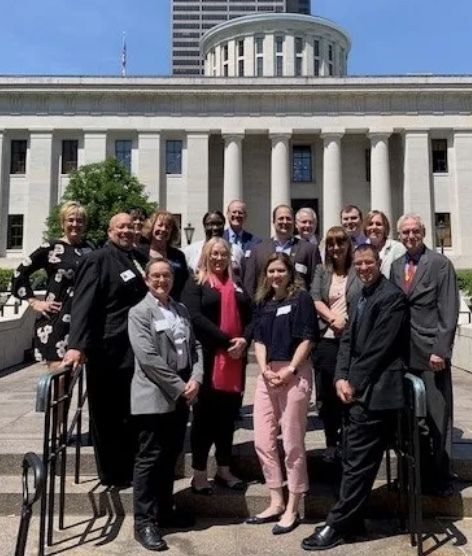 Join US on Tuesday, May 2nd, for Lobby Day!
Together, we have the power to affect policies that impact the lives of our community. Each year, Adoption Network Cleveland travels in teams of staff and volunteers to lobby our state representatives and senators, both freshman and veterans alike. We set Tuesday May 2nd as our 2023 Lobby Day! Volunteers will advocate for our public policy agenda, deliver materials, and give attention getting gifts of branded candy jars.
Can you spend the May 2nd in Columbus with us?
Do you want your voice to be heard on these issues? Do you have an interest in learning how government operates? How about putting political advocate on your resume? If you answered yes to any of these, then we want you to volunteer! Volunteers will be needed in Columbus for a full day of advocacy and outreach.
Worried about not knowing what to say? Never fear! Adoption Network Cleveland will provide training on issues and talking points and you will work in groups of two or three while meeting the legislators. Can't make it to Columbus? We have a job for you too! We need help with pre-event preparations too.
If you are interested in volunteering in any capacity, please email board member Julie Lady (jalady@gmail.com) with a copy to Betsie Norris (betsie.norris@adoptionnetwork.org), by March 15th. After you sign up, we will reach out to you with specifics.
This is a perfect opportunity to get involved, discover and/or learn new skills, and make a difference! Training is provided to all. Consider donating some of your time and talent to benefit our collective network before or on Lobby Day. Our 2022 Lobby Day was extremely successful. Our volunteer teams met in person with almost half of the 132 House and Senate offices (legislators and their staff). This year, we hope to match or exceed our 2022 reach. To do this, we need YOU! Please sign up by Friday March 15th.
About Lobby Day
Lobby Day is critical as it provides a unique and effective way to have a discussion about issues that impact the communities we serve with the people who have the power to fix them. It's not just important for us, it's needed by our representatives in government as well. The 135th Ohio State General Assembly is underway and we continue to make our voice heard.
It is our civic responsibility to speak up. It is our representative government's responsibility to listen. All parties want to see better outcomes, and our state elected officials rely on the communities' voices for information, feedback, and support on what works and what does not. In fact, it was our 2012 Lobby Day meeting with State Senator Bill Beagle's staff that got him interested in sponsoring Ohio Senate Bill 23, which passed in 2013 and created access to their birth records for 400,000 Ohio adoptees with previously closed records. We always have our ear to the ground to discover who in our state legislature has a personal connection with and/or passion for our mission.
Our Public Policy Agenda
On this year's Lobby Day, we will be focus on key elements of our Public Policy Agenda during our visits. Promoting sibling connections, and ethical and equitable practices in adoption and child welfare will be two of our Lobby Day priorities.
Sibling Connections: Did you know Ohio law allows the relationship between a parent and a child to determine the relationship between siblings? Adopted children are legally severed from their siblings and it is unclear whether permanent custody ends a sibling relationship. Although federal and state law requires children in foster care be given the opportunity to visit with their siblings, this right does not extend into adoption and can be withheld by caseworkers without direct judicial consideration. We believe siblings should be a source of comfort and stability to children as their relationships to the adults in their lives change.
Ethical and Equitable Practices: ANC believes that personal growth and adjustment are enhanced where ongoing, cooperative, and trusting relationships are developed for all parties in adoption, kinship, assisted reproduction, and child welfare situations where each party's rights and interests are safeguarded throughout the process. Adoption Network Cleveland will continue to seek ways to promote balanced and respectful practices, with a racial equity lens and attention to policy that balances the rights of birth and adoptive parents with a focus on the best interest of the child involved, into the adulthood of that child.