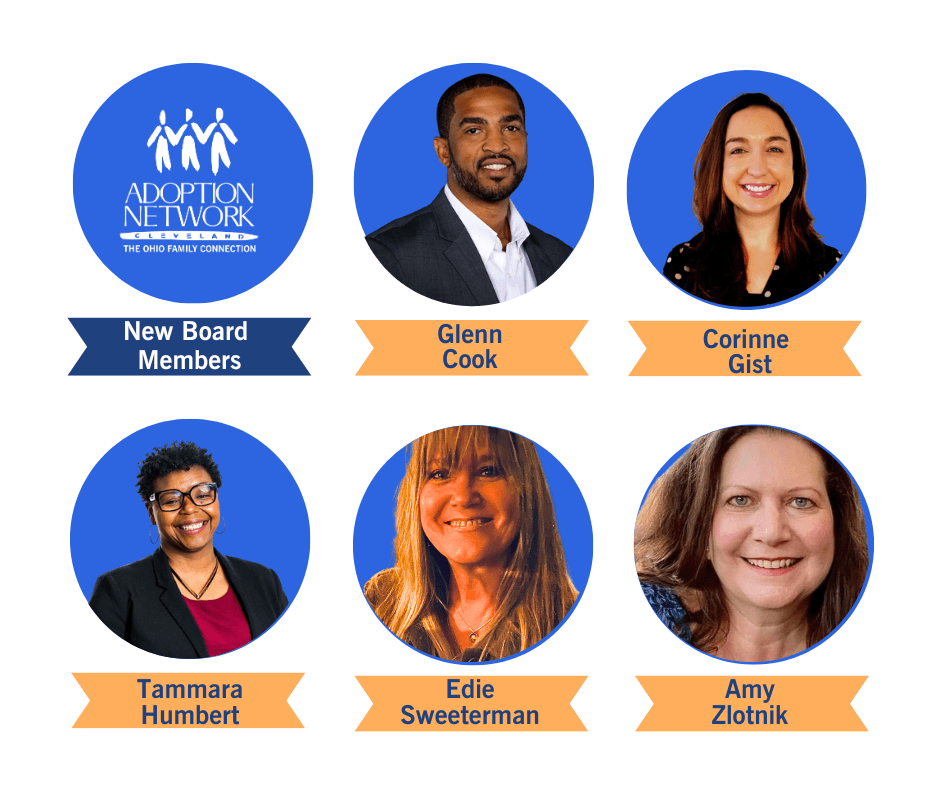 In November, Adoption Network Cleveland's board welcomed four new board members: Corinne Gist, Tammara Humbert, Edie Sweeterman, and Amy Zlotnik. Glenn Cook joined the board earlier in 2022. We think, after reading, you will join us in congratulating our Board's Leadership Development Committee for working to recruit such mission-centered, professionally diverse, and ready to serve individuals!
Meet our new members in alphabetical order:
Glenn Cook, Assistant GM and Vice President of Player Personnel, The Cleveland Browns
Glenn is headed into his third season as Brown's Assistant GM and Vice President of Player Personnel after spending four years as the club's assistant director of pro scouting. Glenn works with the Executive Vice President of Football Operations and General Manager, and the rest of the senior football staff to contribute to all roster and strategic football decisions.
Prior to Cleveland, Glenn was a pro scout for the Packers in Green Bay and earlier still, Glenn worked as a scouting assistant with the Indianapolis Colts. As an awarded University of Miami (FL) four-year letterman linebacker with 185 tackles, it may surprise many to read that Glenn was drafted by the Chicago Cubs in the 46th round of the 2009 MLB Draft. Glenn played 34 rookie-league games for the club.
Glenn holds a master's degree in sports administration from University of Miami and a bachelor's degree in marketing and management. Glenn and Kelem, his wife, live in Cleveland, with their children - Isaiah and Zahara. With less than one-year served, Glenn came to the board with intensity quickly jumping in to support both Creating Futures 2022 and 2023, as well as teaming with Adoption Network Cleveland's family programs on a future event!
Corinne Gist, Owner and Director of Fit Learning Cleveland
Corinne has more than 20 years of experience in the fields of education and behavior science, working with students, staff, and families in public and private schools as well as day treatment centers. She holds a Ph.D. in Special Education and Applied Behavior Analysis from The Ohio State University, an Educational Specialist Degree in School Psychology, a Master's in Educational Leadership, and a Bachelor's in Early Childhood Education.
Corinne is published in peer-reviewed journals, teaches at the university level, and regularly presents at local, regional, and international conferences. Corinne was initially introduced to the Adoption Network through her mother, who was a beneficiary of our services, which she describes as life changing for her mother and family. Corinne has been a member of the program committee since the fall of 2020.
Shortly after submitting her board paperwork, we welcomed Fit Learning as an Adoption Network Cleveland Corporate Partner! Our staff and families are grateful for Corinne's hands-on volunteering to support our Family Ties program which meets monthly in-person.
Tammara Humbert, Experience Accounting Professional
For almost a decade, Tammara (Tam) has worked in the world of finance. Currently, she is studying for her Certified Public Accountant exam! Her professional experience includes operational analytics, nonprofit Financial Management, LIHTC, and transitional work for ERP system change overs. Her business acumen and financial expertise supports our overall board's commitment to Adoption Network Cleveland's sustainability. Tam selected serving on the board's Outreach & Development Committee using her social and creative ideas to help spread the word of Adoption Network Cleveland's programs and services.
Tam grew up in East Cleveland after spending time at Metzenbaum Children's Center waiting for her forever home. She was adopted at age 14 and reconnected with her birth family as an adult. As an active community volunteer, Tam serves the Birthing Beautiful Communities Board as Treasurer, a SELSC board member, and a finance committee member for South Euclid United Church of Christ. Tam resides in Twinsburg with her husband and three children.
Edie Sweeterman, Foundation Relations Officer, Kent State University, Department of Philanthropy and Alumni Relations
Edie is an experienced business development professional. In her current role, she initiates, develops, and coordinates fundraising approaches to secure grants from foundations to support Kent State University's priorities. Additionally, Edie maintains a pool of philanthropic/foundation prospects, both locally and nationally. She generates support for faculty programs and research while meeting established fundraising goals. Edie's professional talents make her a fantastic asset to the board's Outreach & Development Committee.
Edie holds a BA in Speech Communications from Wittenberg University where she met and married her college sweetheart. Together, they have shared parenting joys of raising two wonderful children. Edie is a long-time resident of Strongsville and enjoys the outdoors, hiking and exploring, cooking, and reading.
Edie was touched by adoption as a young girl when her sister gave up her own daughter for adoption at the tender age of 16. Happily reuniting with her niece when she was 20, and maintaining a close-knit relationship since, creates some of the most meaningful moments in Edie's and their family's lives.
Amy Zlotnik, Vice-President and Co-Owner, Audimute Soundproofing and Medic Batteries
Amy has been running two successful businesses alongside her husband for 17 years where she oversees the finance and personnel departments. In her prior professional career, Amy was a pediatric occupational therapist for almost 20 years, primarily working in the schools with children of all ages.
She holds dual bachelor's degrees from the University of Michigan in Education, and Psychology, as well as a Master of Occupational Therapy degree from the Medical College of Ohio (now University of Toledo Medical School).
Amy was active in the National Council of Jewish Women for several years, including serving on their executive board as Membership Director. She is an adoptee who was reunited with her birth parents in 2015 when the Ohio Birth Certificate records were opened, and she has also been fortunate enough to establish a relationship with her two full sisters, who both live in the Cleveland area. Amy is a lifelong Clevelander who currently lives in Solon with her husband, Mitchell. They have two grown children who reside in Cleveland, and Columbus.
As a Co-chair of Creating Futures' Host Committee, Amy is using her years of Adoption Network Cleveland membership to help the team launch a fantastic 2023 event!