The Trauma of Relinquishment - Adoption, Addiction & Beyond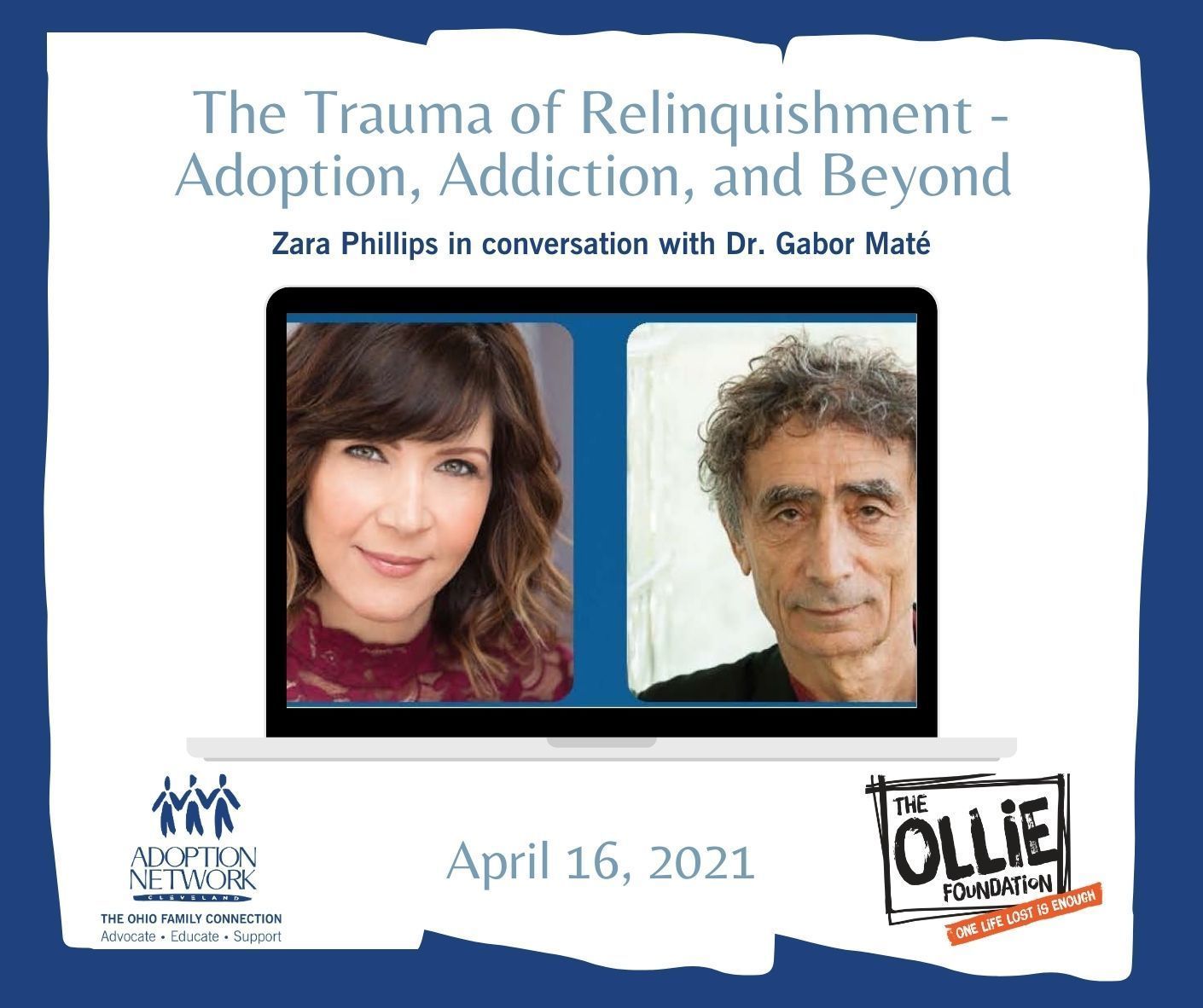 The Trauma of Relinquishment - Adoption, Addiction & Beyond - Zara Phillips in conversation with Dr. Gabor Maté.
We are pleased to be partnering with the OLLIE Foundation in the UK to present this special online event. Zara Phillips is an author, singer-songwriter, and adoption advocate. Zara will be discussing the trauma of relinquishment and the impact on addiction issues with Dr. Gabor Maté.
Adoptees and children who are fostered are over-represented in the prison system, addiction clinics and are 4 times more likely than their peers to attempt suicide. This talk will consider why that would be and what, if anything we can do about it.
For many, when we talk about adoption, we talk about placing children in need, into loving homes to parents that want them. The assumption behind these conversations is that love will overcome all challenges and obstacles. What we don't talk about, or rarely, is that the adoption in the new home comes about because another home has ended, or perhaps not even begun. We forget that all adoption is formed from loss. Love is essential but it is not enough. Gabor Maté and Zara Phillips will discuss what it means to carry the trauma of being relinquished. How adoption is not a one-time event but has a lifelong impact. They will consider how unresolved trauma can lead to addiction and suicidal thinking and what if anything an adoptee (and those that support them) can do to heal and recover.
This talk will also help inform best practices for those working in adoption and fostering and those who offer mental health services for adoptees to help inform best practices. This presentation will be of interest to anyone with lived experience of and/or working in the fields of relinquishment, trauma, addiction, recovery, adoption, and child welfare. A donation of approximately $15 (£10) to The OLLIE Foundation is required to register, however, no one will be turned away due to the inability to donate.
Interested in sharing this event with your friends and colleagues? Download the flyer below.
Tickets can be found on Eventbrite at: https://www.eventbrite.co.uk/e/the-trauma-of-relinquishment-adoption-addiction-and-beyond-tickets-143997421163.