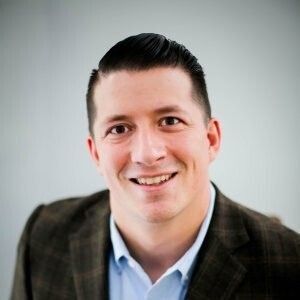 Eamon Larkin is a husband, father, Certified Public Accountant, entrepreneur, Crain's CFO of the Year recipient, treasurer, board member and dedicated supporter of Adoption Network Cleveland. In the bustling world of non-profit organizations, volunteers and donors stand out as beacons of purpose-driven engagement. Eamon's journey as a board member and integral part of the finance committee at Adoption Network Cleveland is a testament to the generosity of our community members.
Eamon first connected to Adoption Network Cleveland when he and his wife Lauren attended an Adoption 101 workshop as they were looking into adoption for the first time. They had spent some time navigating different adoption agencies but came out confused and frustrated. Adoption Network Cleveland, however, had something different to offer them.
"I loved [Adoption Network Cleveland] because they were agnostic to the agency world, and when you first start looking into adoption, the agency world is really intimidating," said Eamon. "We were kind of flying blind and listening to people who were considered experts, but they also had their own motives because that's how they make money."
Adoption 101: Where Do I Begin?, which provides a realistic overview of adoption options and processes, brought the couple clarity and direction; and in 2018, they adopted a son who joined their three older children to create their family of six.
Since this workshop, Eamon and his family have remained connected with Adoption Network Cleveland. "You just get drawn to them and want to be a part of it," he said.
Eamon believes in the power of giving back to his community and uses his professional skills to do so. "I was blessed with certain skills and it's really important to monetize those, but it's also important to use them for the greater good," he said.
He encourages professionals to take a little bit of their time and use it for good, regardless of their field or skills, and explains that while professional lives are often defined and restricted, volunteering offers perspective on many aspects of a business and serves as a great tool to find connections.
"Honestly, there's a networking aspect to it," Eamon admits. "You get to meet other like-minded individuals from different sectors. The amount of people I've met just through sitting on the board… I've got twenty plus people that I otherwise probably would have never met."
After ten years of public accounting, Eamon joined a company called Budget Dumpster, one of the fastest-growing private companies in the country. During this time, he and his team were able to identify some gaps in the waste industry and created another company, Wastepay, to provide software for smaller hauling companies. Today he is the Vice President of Wastepay and helps to ensure that smaller waste companies can afford to operate amidst competition with much larger corporations.
A career in accounting has been of great value to Eamon during his five years on the Finance Committee at Adoption Network Cleveland. This committee is responsible for coordinating the board's financial oversight responsibilities by recommending policy to the board, interpreting it for the staff, monitoring its implementation and overseeing investments.
Despite this description, the committee is not just for seasoned financial advisors or accountants. "One thing I think is a little bit of a misnomer is – just because it's a finance committee that you have to be good with numbers," he said.
Most people tend to gravitate towards what they're good at, so while those with finance experience are certainly welcome to join, it is not a prerequisite. Eamon emphasizes that the best skill to have is creative thinking.
"We need people that enjoy what they're doing and aren't intimidated to ask questions," he said. "I think it's good to be good with numbers, but it isn't essential and, more than anything, we just need curious and participating people."
He goes on to say that he has never stopped asking questions or raising his hand in meetings. Even after ten years as a CFO, there are still acronyms and numbers that he doesn't understand, and he is not afraid to ask those questions.
His advice to anyone considering joining the board or serving on a committee is this: "It's two levels deep – make sure that you care about Adoption Network and make sure that you can make time for it because the people that you're representing and trying to help are counting on you and they need you."
Eamon is proud to be a part of something bigger than himself.