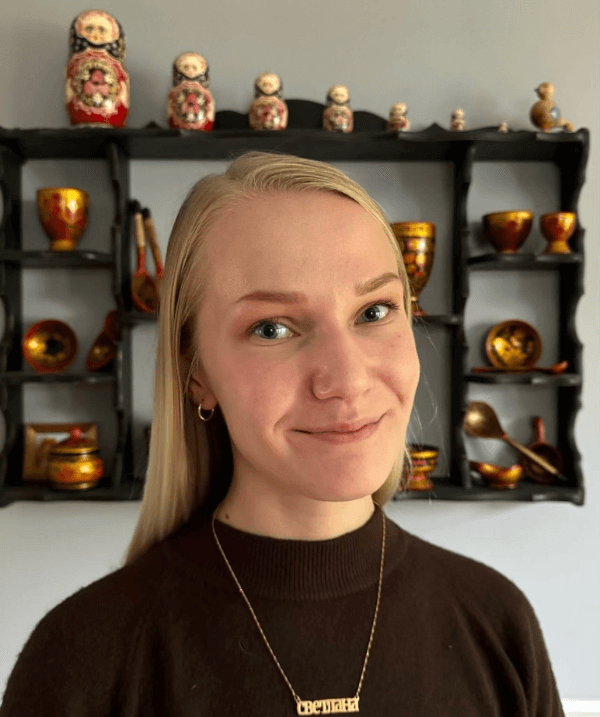 I started my adoptee journey in January this year, 2023. Perhaps it really started 15 years ago when I had the same questions many adoptees share; how did I get here? Who and where did I come from? Why didn't they want me? These questions framed my turbulent mental health through my adolescence and young adulthood and now lead me to my first true examination of adoption as trauma and on to my search for my birth family. I had the privilege of always knowing I was adopted, but it took me 25 years to realize the deep impact it had on shaping my identity or lack thereof. Now I understand this initial loss left me isolated. I wondered who I was without any genetic mirrors reflecting the answers I was looking for to guide my self-image. Being adopted internationally from Russia, I had been under the impression that it simply wasn't possible to search for my birth family due to the little information given regarding my origins. I never entertained the idea of a reunion that seemed to be blatantly impossible; I would just have to continue to wonder where my traits came from, or maintain a facade of disinterest.
On January 15th, what I believed was impossible unraveled. After asking my parents for anything they might have related to my adoption, my mom handed me a cream-colored Talbots box from 1990-something filled with every document from my adoption and various knick-knacks and souvenirs from my parents' trip to Russia. Lacquered broaches, postcard books, a Soviet coin collection, a bonnet I wore in the orphanage, and a tiny silver Orthodox cross wrapped in paper with my birth name, Svetlana, in cursive Russian handwriting. This necklace held more information for me than all of the documents combined. It was a symbol: if something so special was left with me, then I was not discarded or unwanted. It was a piece of my birth mother's story that I hadn't imagined existed, instantly shifting my belief of my unwanted existence.
I immediately began searching, staying up until 3 AM creating Russian social media accounts and typing in different variations of my birth mother's name. There were no instant matches. Without any understanding of what would have been my native language, I thought I had struck out. The following morning I found a private investigator recommended by other Russian adoptees via a Facebook group, and within a few hours, I hesitantly transferred a deposit to a foreign name I didn't know. A few more hours passed, and I received a message from the investigator with my birth mother's photo and her phone number.
I couldn't help but be mesmerized by her picture; I had never imagined seeing my eyes, nose and cheekbones so clearly reflected in someone else's features. A few messages and rough translations later, she still wasn't sure I was who I claimed to be, so I frantically snapped a photo of the necklace she left for me and sent it. Our connection was verified. I hardly slept all week. I will never forget the strong sense that I had found the piece of myself I didn't know was missing until it was simultaneously right in front of me- and a world away.
Now, several months later, I communicate with her almost daily. I go back and read our first messages sometimes, and look at her pictures every day. I've spent hours learning introductory Russian language to better communicate with my family and have made my babushka's recipes for honey-bee torte and borscht. Preparing her recipes makes me feel closest to my roots. I close my eyes and imagine I'm standing in babushka's kitchen boiling beets by her side. Over the summer, I grew strawberries and chamomile in my garden to share virtually with my grandmother tending to the same plants on the other side of the world. I've been watching Seinfeld dubbed over in Russian before I doze off at night, and reading Russian folk tales and literature celebrated in my homeland. At thrift stores and vintage markets, I've collected various pieces of "khlohoma"- a traditional Russian folk art of vibrant red and gold painted wood plates, cups and bowls. I even legally changed my name, reclaiming my first name my birth mother passed on to me, Svetlana. Anything Russian I can find feels like a window to my ancestors. These little pieces are all I have to grasp onto in my attempts to understand my lost, and now found, heritage.
My story is not unique in that through all of the joy that followed my reunion, there also came waves of grief. Grief for the loss of time I was trying to make up for. I wondered how my childhood would have been spent in my grandmother's garden or teasing my little brother I hadn't known existed. I've experienced their grief too, knowing they didn't have time to prepare for my return. They were facing the same emotions of loss viewing my childhood photos here in the US without them. Our reunion is also complicated by war, and further discrepancies in my Russian citizenship that require additional documentation and renewals to travel to meet them. It may be several more months or years before we can finally meet. But this grief is generally hard to convey to anyone untouched by adoption. Shouldn't I be happy? I have all the answers now, so why am I still so emotionally impacted? This deep feeling of disenfranchised grief led me to the new in-person General Discussion Meeting at Adoption Network Cleveland where adoptees, birth parents and adoptive parents are welcomed to share and discuss complexities of the adoption experience. I was desperate to participate in environments where adoptee experiences are understood and I wouldn't have to defend the loss I was feeling despite my positive reunion experience. Delightfully, that's exactly what I found. I was overwhelmed with the unapologetic and honest understanding of adoption as a lifelong and life-shaping event that cannot be erased or denied.
Since my first meeting at ANC, I now plan to volunteer with the search team under Karen Wyman and hope to be an asset to the community, particularly in assisting other Russian adoptees start their searches. I am currently studying to complete a bachelor's degree in social work and plan to attend graduate school to pursue a career serving and supporting the adoptee population. There is no handbook for international adoptee reunion; there never will be. My hope is that in sharing this first chapter of my story, I might inspire someone else who would have otherwise believed it was impossible to search internationally. Our identities and heritage are ours to claim, however we choose, even when the origins are continents away.
---

Searching for one's birth family is a personal and important life event that is unique to each individual. Adoption Network Cleveland: The Ohio Family Connection is an experienced, trusted, reliable search resource for adult adoptees, birth parents and siblings, those with DNA discoveries (including misattributed parentage and individuals who are donor conceived), and others who are interested in searching for their relative(s). The wrap-around support provided by our knowledgeable staff, and the breadth of resources available, round out our unique and holistic approach.

---
Learn more about Search & DNA Assistance at Adoption Network Cleveland here.
To register for November's In-Person General Discussion Meeting, click here.
To view all upcoming programs and events, click here.