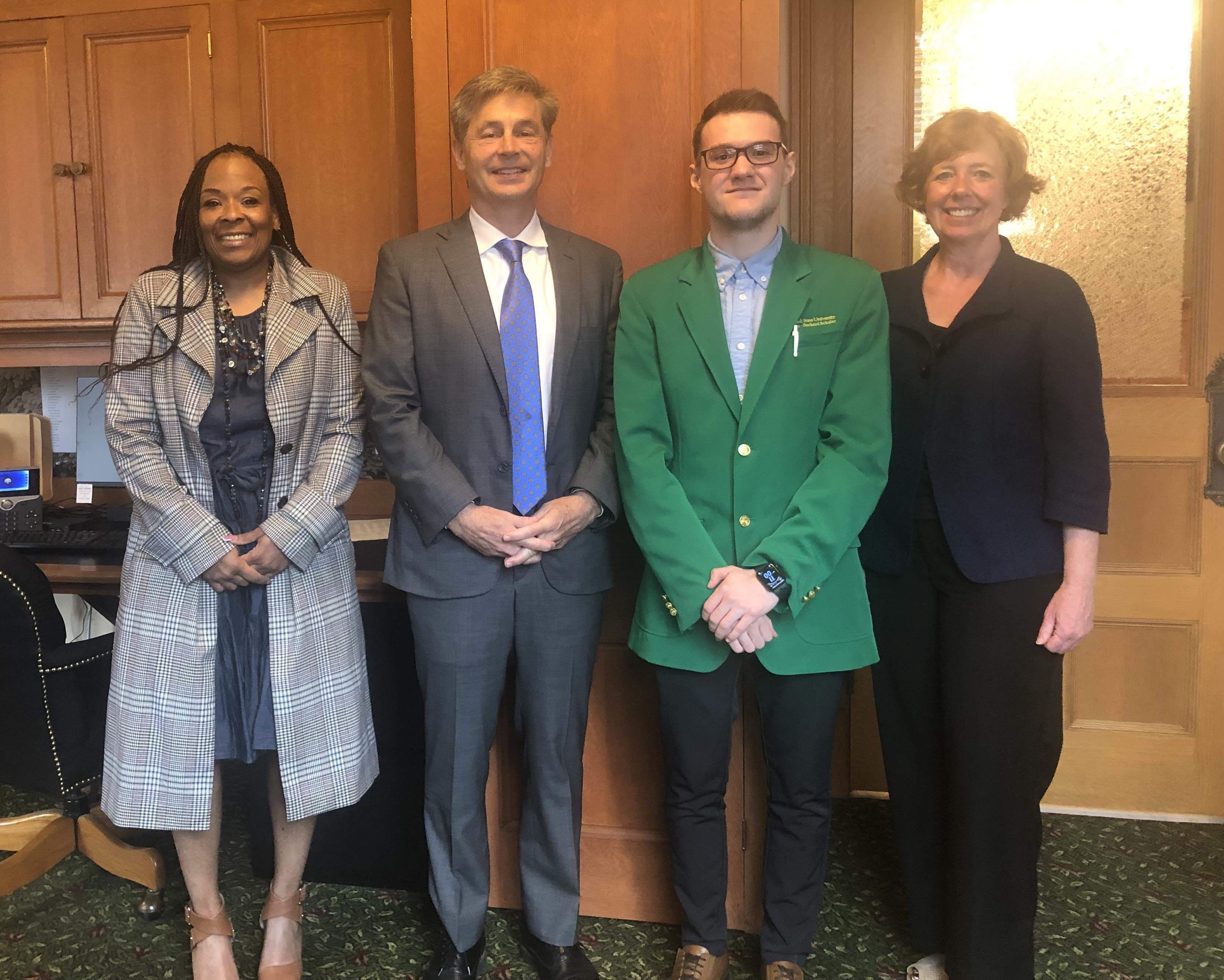 Waking up at 4:30 am to drive to the Ohio Statehouse may not be on everyone's priority list; however, for Adoption Network Cleveland Lobby Day volunteers, doing so was important on Wednesday, May 18. It meant having a full day with opportunities to meet Ohio legislators about three important issues to adoptees, youth in foster care and alumni, and donor-conceived individuals.  
May 18 was the 14th year that Adoption Network Cleveland visited the Ohio Statehouse in full force with teams of trained volunteers, ready to talk about issues important to our constituents. This year was especially significant, as the past two years were canceled due to health safety concerns. At 9:45 am, twenty-one volunteers left our "command central" armed with candy jars, materials covering the critical points, and a passion for being heard. Issues that were top priority for this year's Lobby Day included:
Fraudulent Assisted Reproduction (also known as Fertility Fraud): HB 64 would establish criminal penalties for fertility fraud in Ohio. Examples of fertility fraud include doctors using their own sperm to inseminate their patients (instead of the husband's or chosen donor's) or a fertility clinic misrepresenting the health or education of a donor. Details on the issue and proposed changes to Ohio law can be found in this FLYER.
Fostering Sibling Connections: Adoption Network Cleveland supports creating legislation that would establish a process by which children who have been adopted or are in foster care are more often placed with siblings and if separated, can petition to visit their siblings to maintain sibling relationships. Details on the issue and proposed changes to Ohio law can be found in this FLYER.
Runaway Responses: Adoption Network Cleveland joins Foster Action Ohio effort to establish a less punitive response for youth who run away and ensure that their records are automatically expunged of this status offense when they enter adulthood. Details on this issue can be found in this FLYER.
Visits with 45 senators and representatives were made, identifying potential co-sponsors for two bills seeking to be introduced in the next session, as well as confirming widespread, bipartisan support for HB 64, which will hopefully be voted on and passed into law this year. Packets of information and jars of candy were also distributed to the balance of the legislators. Many legislators and aides discussed experiences with adoption, foster care, and assisted reproduction within their own lives and families.
Lobby Day was an exciting opportunity for volunteers to be part of the legislative process and use their right to free speech by sharing their opinion on these crucial topics. It was also incredibly satisfying for many to be part of a tangible step toward positive CHANGE for Ohio adoptees, foster youth and alumni, and those impacted by fertility fraud.
One volunteer, Russell, a former foster youth and a current Sullivan-Deckard Scholar at Cleveland State University, participated in his first Lobby Day with Adoption Network Cleveland. Russell shared, "This experience has enlightened me and made me realize the importance of advocacy. I now want to advocate more for my fellow foster youth."  The impact of Russell sharing his personal experiences was evident in the responses received from legislators who met with Russell's team. 
Jillian Phillips, Vice President of Government Affairs of the US Donor Conceived Council also joined Adoption Network Cleveland for Lobby Day, stating, "This was a wonderful opportunity to collaborate on our shared goals and build upon our relationship."
If you would like to learn more about Adoption Network Cleveland's advocacy efforts, please visit Public Policy on our website
You can also become involved in future advocacy efforts by becoming a volunteer. Contact Julius Jackson at (216) 482-2314 or Julius.jackson@adoptionnetwork.org and let us know that you would like to become a public policy volunteer. 
Tammy Willet is the Director of Development & Communications at Adoption Network Cleveland